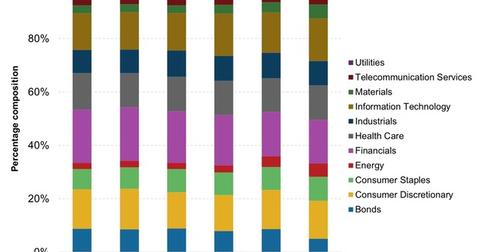 Assessing Year-to-Date Portfolio Changes in AEPGX
By David Ashworth

Updated
American Funds EuroPacific Growth Fund overview
The primary geographic focuses of the American Funds EuroPacific Growth Fund (AEPGX) are Europe and the Pacific Basin. The investment adviser considers countries that form part of the MSCI European indexes to be part of Europe.
Meanwhile, if a country's borders touch the Pacific Ocean, it's considered part of the Pacific Basin. The fund invests in growth stocks.
AEPGX is managed by multiple portfolio managers. The portfolio is divided, and individual managers are responsible for the segments allocated to them. Managers "seek to invest in attractively valued companies that, in its opinion, represent good, long-term investment opportunities." Fundamental analysis forms the core of the fund's investment philosophy.
The fund's holdings are made public once per quarter. Its assets were spread across 411 holdings in June 2016, and it was managing assets worth $125.4 billion. In June, its equity holdings included Sony (SNE), HDFC Bank (HDB), China Mobile (CHL), Ctrip (CTRP), and ArcelorMittal (MT).
Article continues below advertisement
Portfolio changes in the American Funds EuroPacific Growth Fund
The top three sectors in which AEPGX invests are fairly even in terms of sectoral exposure. Financials lead the pack, followed by the information technology and consumer discretionary sectors, in that order. These three sectors command 45% of the fund's portfolio. Healthcare is the only other sector that forms over one-tenth of the fund's assets.
We've looked at the quarterly portfolios of AEPGX for the past three years until June 2016. While the consumer discretionary sector has broadly maintained its portfolio weight through this period, the consumer staples sector has seen a fall.
Meanwhile, after its having tanked in 2015, the fund's exposure to energy stocks has risen again. While financials and industrials form less of the portfolio than they did at their respective peaks in the above-mentioned period, technology stocks and utilities have seen their respective weights increase. A noteworthy aspect of the fund is its high exposure to bonds.
With this portfolio positioning, how has AEPGX fared in 2016 and why? Let's look at that in the next article.