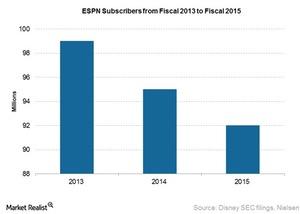 Will Disney Be Able to Stem Subscriber Losses for ESPN?
By Shirley Pelts

Updated
Disney's ESPN
Last week, Awful Announcing reported that law firm Labaton Sucharow was exploring the option of filing a lawsuit against The Walt Disney Company (DIS) over ESPN's subscriber losses.
According to the report, which cited Deadspin, the law firm was looking into whether "Disney knew the exact severity of the subscriber loss during the 2015 fiscal year, but chose not to reveal it to investors." ESPN's subscriber losses have been a cause of worry for DIS's investors.
Article continues below advertisement
As the chart above indicates, the number of subscribers for ESPN fell from around 99 million in 2013 to 92 million in 2015. However, Disney indicated during the company's fiscal 1Q16 earnings call that ESPN had started to gain subscribers over the last few months. Disney credited this rise to the inclusion of ESPN in Dish's Sling TV OTT (over-the-top) service.
How is Disney trying to stem subscriber losses?
Disney is trying to stem these subscriber losses by broadening ESPN's reach by distributing it across multiple platforms in the United States and internationally. ESPN is already part of skinny bundles such as Dish Network's (DISH) Sling TV and Sony's (SNE) PlayStation Vue. Disney has also stated that it believes the trend of skinny bundles and ESPN's addition to these bundles will be a big positive for the company.
At the end of last month, Disney also announced that ESPN had partnered with the Atlantic Coast Conference to launch the ACC Network, a "comprehensive linear and digital network" that would provide viewers with "access to live events via a comprehensive, multi-platform network."
Disney has decided to strengthen ESPN's "competitive position in the marketplace" by investing in ESPN's sports content, licensing major sports events for long periods of time and partnering with new age media platforms such as Vice.