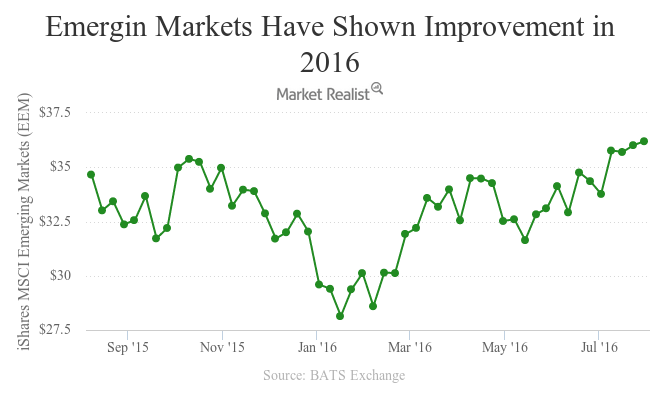 Richard Bernstein Sees an Improvement in Emerging Markets
By David Ashworth

Aug. 9 2016, Published 10:26 a.m. ET
Emerging markets have been unfavorable
Richard Bernstein Advisors hasn't liked emerging markets for quite some time. In a call arranged by Eaton Vance Investment Managers, Richard Bernstein admitted that on emerging markets, his company has been "notoriously bearish for the past five years."
[marketrealist-chart id=1526837]
The primary reason for this is his company's focus while looking for investments: corporate profitability. The company was of the opinion that investors were going overboard on emerging markets (EEM) (VWO) because of the rosy GDP figures being reported by these countries.
However, corporate profits weren't looking good, so the company remained bearish. In fact, in his monthly newsletter for May, Bernstein expressed his preference for small-cap US stocks (PNY) (VSAT) (TTWO) compared to lesser known markets.
Bernstein added that though small-cap stocks are always more economically sensitive than their large-cap peers and are cyclical, he'd prefer them over relatively lesser known emerging markets, as those are cyclical as well.
Article continues below advertisement
There's been some improvement
Though Richard Bernstein Advisors doesn't find emerging markets wildly attractive at the moment, it does find them better than Japan. Bernstein said that Japan had overtaken emerging markets in terms of negative earnings. His company doesn't manage money on the absolutes of good or bad, but the relatives of better or worse. Hence, its preference for emerging market equities is higher than its preference for Japan. This has resulted in some exposure to emerging market equities in portfolios managed by the company.
However, the company isn't aggressively buying in these markets, as corporate profitability is key for them, and though profitability has improved, its direction remains to be seen.
After discussing the equity markets of the United States, Europe, Japan, and emerging markets, Bernstein expressed his views on fixed income. We'll look at these views in a later article, but first, let's look at yield levels across different segments of fixed-income markets.