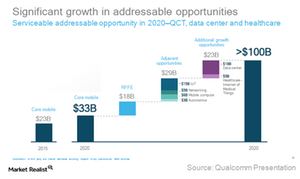 Seeing Opportunity, Qualcomm Zeroing in on IoT Space
By Puja Tayal

Aug. 10 2016, Updated 10:04 a.m. ET
Slow growth in smartphone market takes a toll
Earlier in this series, we discussed how Qualcomm (QCOM) is witnessing a demand shift towards mid- and low-end phones. Moreover, the overall growth in smartphone shipments is slowing and this is being reflected in Qualcomm's earnings.
Qualcomm expects global 3G and 4G device shipments to rise 8% YoY (year-over-year) to 1.7 billion in calendar 2016. IDC expects global smartphone shipments growth to slow from 10.5% YoY in 2015 to 3.1% YoY in 2016.
Article continues below advertisement
Qualcomm in adjacent markets
Qualcomm has realized that the smartphone market is slowing and increasing its semiconductor content will not result in significant growth. Therefore, it is expanding its presence in adjacent markets such as the server, automotive, and IoT (Internet of Things) markets. According to Qualcomm and third-party researchers, adjacent markets could provide a total addressable market of $29 billion by 2020.
Qualcomm, with its ARM-based processors, 3G, 4G, 5G, WiFi, multimedia, graphics, and RF (radio frequency) front-end technologies, is well placed to tap the IoT opportunity. Qualcomm's chips are already making their way in the IoT space, with its Snapdragon Wear 1100 in wearables, Snapdragon flight in drones, and Snapdragon 602A chip in automotive. The new Snapdragon 821 will come in variants for different IoT devices.
Whereas Qualcomm currently has 724 IoT patents, Intel (INTC) has 688. Analysts expect Qualcomm's ARM-based processors to overtake Intel's x86 processors in the IoT space.
Moreover, the recent news of ARM Holdings' (ARMH) acquisition by SoftBank gives another big push to Qualcomm. Softbank plans to invest heavily in ARM to expand in the IoT space, which could support Qualcomm's efforts in the IoT market.
Article continues below advertisement
5G technology
Qualcomm is also at the forefront of 5G technology, which is expected to boost IoT growth. It has launched an LTE (long term evolution) modem for IoT devices and has already secured 100 design wins from over 60 manufacturers. It is developing 350 WiFi network products for the new Wave 2 11ac standard. The company is scheduled to launch its next-generation Gallium arsenide and CMOS (complementary metal oxide semiconductor) power amplifiers in 2017 in a joint venture with TDK.
Data centers
Although Qualcomm has also launched ARM-based server chips, it could take some time for them to compete with Intel's x-86 chips, as power-efficient ARM-server chips lag behind x86 chips in terms of performance. Qualcomm has partnered with Xilinx (XLNX) to use its FPGAs (field programmable gate arrays) in server chips to improve processing power. Next, we'll discuss whether Qualcomm is financially strong enough to take up long-term investments in adjacent markets.