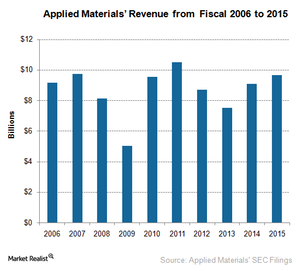 How Much Are Production Cycles Impacting Applied Materials' Earnings?
History of Applied Materials 
Applied Materials (AMAT) is going through a strong growth phase as the semiconductor industry transitions to advanced technology. The company is at the start of the supply chain and is exposed to the production cycle of the semiconductor industry.
During the early days of the semiconductor industry, semiconductor manufacturers used to build their own equipment. AMAT changed this trend in 1967 and became the first company to supply nanomanufacturing technology solutions to semiconductor manufacturers. In the 1990s, the company expanded its product portfolio to include flat panel display equipment. Competition picked up in the 1980s when Lam Research (LRCX) and ASML Holding (ASML) entered the market.
Article continues below advertisement
Applied Materials' business
AMAT is now the leader in the semiconductor equipment market, with annual sales of $9.7 billion. The company annually spends $1.5 billion on research and development and has a portfolio of more than 10,200 patents. The company supplies equipment, service, and software products for the fabrication of semiconductors, flat panel displays, flexible electronics, solar cells, and energy-efficient glass. The company has 14,000 employees across 81 locations in 18 countries.
AMAT has a small customer base of semiconductor manufacturers such as Intel (INTC) and TSMC (TSM) as many semiconductor companies transitioned to a fabless model, in which they outsource manufacturing to third-party foundries. AMAT's orders and revenue depends on its customers' production cycle.
AMAT's cyclical earnings
AMAT goes through the cycles of technology transition and capacity expansion where its earnings grow at rocket speed. This strong growth is followed by sharp declines because of the nature of its products, and equipment has a long product cycle because it does not need major upgrades on a frequent basis.
This trend is visible from the above graph. Strong revenue growth in fiscal 2007 was followed by two consecutive years of sharp declines. In 2010, the company's revenue doubled, and then another decline phase came in fiscal 2012 and 2013.
Article continues below advertisement
AMAT's earnings will likely increase in 2016 as the overall semiconductor industry transitions to new technology. Meanwhile, the trend in technology is shifting toward virtual reality, deep learning, artificial intelligence, and autonomous cars. This requires high performance, power-efficient chips, OLED (organic light emitting diode) displays, advanced memory, and increased RF (radio frequency) and analog content.
Many semiconductor companies are thus upgrading to next-generation technologies that need complex machinery and materials, and AMAT is at the forefront of this technology shift. The company is positioned to deliver equipment and manufacture these high-performance chips, memory, and displays. However, this growth won't likely be sustainable in the long term, and so it remains to be seen how long this growth cycle will continue.