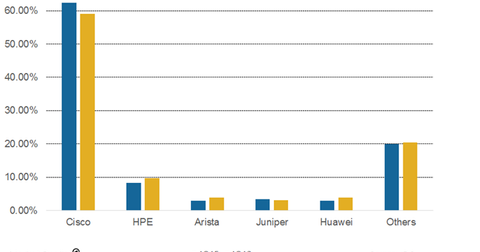 Where Hewlett Packard Enterprise Stands in Ethernet Switching
By Adam Rogers

Updated
Cisco has a market share of 59% in its Ethernet Switching segment
According to IDC (International Data Corporation), Cisco's (CSCO) revenues fell 4% YoY (year-over-year) in its Ethernet Switching segment in 1Q16. Its market share also fell marginally from 59.2% in 1Q15 to 59% in 1Q16. The worldwide Ethernet switch market grew 1.4% YoY to $5.5 billion at the end of 1Q16.
Other major players in this market include Hewlett Packard Enterprise (HPE) and China's (FXI) Huawei. HPE's Ethernet switch revenues rose 18.1% YoY in 1Q16, and the company has a market share of 9.7% compared to 9.2% in 4Q15. Huawei's revenues rose substantially by 33.2% YoY in 1Q16, whereas Juniper's (JNPR) revenues fell 7.3% YoY in the switching business.
The worldwide Ethernet switch market rose 1.4% YoY to $5.5 billion in 1Q16.
Article continues below advertisement
How did HPE's Ethernet Switching business perform in fiscal 2Q16?
In the switching segment, HPE's revenues rose 18% YoY in fiscal 2Q16. Cisco's switching business saw revenues fall 3% YoY in fiscal 3Q16, which ended in April 2016. Revenues in this segment fell from $3.6 billion in fiscal 3Q15 to $3.4 billion in fiscal 3Q16.
Switches contain ports to connect various network segments. They're similar to hubs, networking devices that connect multiple devices to the network using cables, but offer better performance.