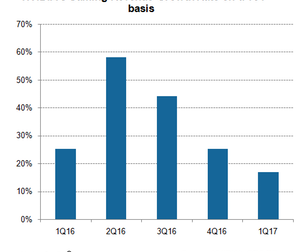 GeForce GTX 1080 and 1070 to Drive Nvidia's Gaming Revenue
By Puja Tayal

Updated
Gaming: A battleground for Nvidia and AMD
In the previous part of the series, we saw that Nvidia's (NVDA) profits are likely to be lower in fiscal 2Q17 as the company ramps up production of Pascal GPUs (graphics processing units) on Taiwan Semiconductor Manufacturing's (or TSMC) (TSM) 16 nm (nanometer) FinFET (fin-shaped field effect transistor) technology.
The first GPUs to be launched on Pascal architecture were GeForce GTX 1080 and 1070 on June 29, 2016, at prices of $599 and $379, respectively.
Nvidia's rival Advanced Micro Devices (AMD) launched Polaris GPU Radeon RX 480 built on Samsung's (SSNLF) 14-nm FinFET technology a month after Pascal's launch. However, AMD launched the Radeon RX 480 at a striking price of $199.
Article continues below advertisement
Pascal GPUs to drive gaming revenue
Which GPU grabs a larger market share will be evident in the current quarter. Nvidia's gaming segment will report one month of sales for its GeForce GTX 1080 and 1070 in fiscal 2Q17. This will likely result in strong growth for its gaming revenue.
Gaming is Nvidia's key segment and accounts for more than 50% of its revenue. As you can see in the above graph, the company reported strong growth in fiscal 2Q16 and 3Q16 as rival AMD lost market share because it wrote off inventory. This is not the case this time. AMD has fastened its seatbelt and is looking to win back its lost market share. Its Radeon RX 480 matches the performance of Nvidia's GTX 980 but falls behind GTX 1080.
While Nvidia is targeting high-end customers, AMD is targeting mainstream customers by offering high-performance GPUs at affordable prices. AMD's GPUs are generally less efficient than Nvidia's GPUs. This was evident in AMD's Radeon RX 480 as power-efficiency issues were noted. The company claims to have resolved the issue.
Nvidia's Titan X GPU
Nvidia is moving fast in terms of performance with its Pascal GPU. It recently launched Titan X, which is 60% faster than GTX 1080.
Titan X uses Micron's (MU) 12 GB (gigabyte) GDDR5X (double data rate type five synchronous graphics random access memory), which delivers 480GB/s (gigabytes per second) of memory bandwidth, which is 50% more than the GTX 1080.
Titan X has 3,584 cores running at 1.5 GHZ (gigahertz) and delivering 11 teraflops of computing performance. That's 24% more than the GTX 1080 performance of 8.9 teraflops.
However, Titan X would consume 250 watts of power and is expected to be priced at around $1,200. Titan X is going to be Nvidia's most powerful GPU to date for gamers and would be available for sale on August 2, 2016.
Next, we'll look at Nvidia's professional visualization segment.