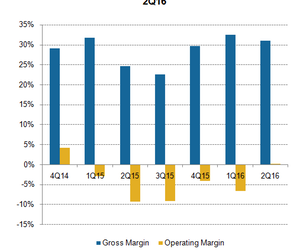 What Turned Advanced Micro Devices' Losses to Profits?
By Puja Tayal

Aug. 10 2016, Updated 8:06 a.m. ET
AMD returns to profits
In the previous part of the series, we saw that Advanced Micro Devices (AMD) returned to YoY (year-over-year) revenue growth in fiscal 2Q16. We also saw that it's set to win back its lost market share in fiscal 3Q16 with its Polaris GPUs (graphics processing units). While the revenue aspect looks good, things are changing on the profitability front as well.
As you can see in the graph below, AMD has been struggling with losses since the start of fiscal 2015. It lost market share in high-margin CPUs (central processing units) and GPUs to Intel (INTC) and Nvidia (NVDA). The losses widened in fiscal 2Q15 and 3Q15 since AMD wrote off its outdated inventory.
Article continues below advertisement
Gross margin
AMD is now returning to profits. For fiscal 3Q16, the company expects its non-GAAP (generally accepted accounting principles) gross margin to remain stable at around 31%. That's sequentially flat but higher than 22.5% reported in fiscal 3Q15.
The improvement in gross margin is a result of a higher mix of semi-custom SoCs (system-on-chip) and the move to Samsung's (SSNLF) more cost-effective 14 nm (nanometer) FinFET (Fin Field Effect Transistor) technology.
Operating margin
On the operations front, things were different in GAAP and non-GAAP earnings. This was due to the $150 million gain from the ATMP (assembly, test, mark, and pack) JV (joint venture) with Nantong Fujitsu Microelectronics.
On a non-GAAP basis, AMD reported an operating profit of $3 million in fiscal 2Q16. This compares to an operating loss of $87 million in fiscal 2Q15. The operating profit was a result of a gain of $26 million from a licensing JV with China.
On a GAAP basis, AMD's operating loss narrowed from $137 million in fiscal 2Q15 to $8 million in fiscal 2Q16. For fiscal 3Q16, AMD expects to report a higher non-GAAP operating profit supported by a $22 million licensing gain.
However, the company expects its non-GAAP operating expenses to increase from $342 million in fiscal 2Q16 to $350 million in fiscal 3Q16. This is expected due to increases in its spending on research and development and intensification of its marketing efforts.
AMD's EPS
On a non-GAAP basis, AMD's loss per share narrowed from $0.17 in fiscal 2Q15 to $0.05 in fiscal 2Q16. However, on a GAAP basis, the company reported EPS (earnings per share) of $0.08 in fiscal 2Q16, driven by the $150 million gain from the ATMP JV.
Summing it up, AMD expects to report profits on both a GAAP basis and non-GAAP basis in fiscal 3Q16. Next, we'll look at the earnings of AMD's two business segments.