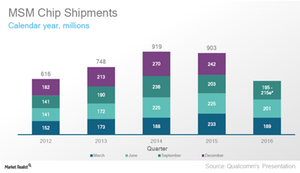 What's Driving Qualcomm's Chipset Revenue?
By Puja Tayal

Updated
Qualcomm's chipset business
In the previous part of this series, we saw that Qualcomm (QCOM) is likely to bear another antitrust fine of $880 million from South Korea in fiscal 4Q16 or fiscal 2017. South Korea is an important market for the company, as it has strong business relations with the country's largest technology company, Samsung (SSNLF). Samsung is Qualcomm's foundry partner as well as a chipset customer. The Qualcomm CDMA (code division multiple access) Technologies segment accounts for more than 60% of the company's revenue but just 17% of the company's operating income.
Article continues below advertisement
Mobile station modem shipments
As shown in the above graph, Qualcomm's MSM (mobile station modem) shipments rose between 2012 and 2014, when the mobile revolution was at its peak, and then fell slightly in 2015 and further in 2016, indicating a slowdown in smartphone sales. Qualcomm dominates the mobile chip market.
In fiscal 3Q16, the company's MSM shipments fell 10.6% YoY (year-over-year) but rose 6% sequentially to 201 million units. Higher than the company's guidance of 195 million, it was due to incremental demand from low-end phone makers in China. The company expects the momentum from China to continue in fiscal 4Q16 and drive up MSM shipments to around 205 million at the midpoint of the guidance.
Qualcomm CDMA Technologies revenue
In fiscal 3Q16, the QCT (Qualcomm CDMA Technologies) segment's revenue was flat on a YoY basis but rose 15% sequentially to $3.9 billion. A decline in orders from its key customer, Apple (AAPL), was more than offset by the strong demand from Chinese customers. The shift in consumer demand from the high-end phones of Apple and Samsung to the mid- and low-end phones of Chinese handset makers worked in Qualcomm's favor.
Article continues below advertisement
In China, the demand for 4G devices is increasing as the nation transitions to LTE (long term evolution) technology. Chinese companies are looking to innovate quickly and Qualcomm is supporting their efforts with its processors. Moreover, Chinese companies are now going international and placing among the top five smartphone vendors in the world. Qualcomm is cashing in on this trend by increasing its dominance in China.
Moreover, Intel (INTC) exited the mobile processor market in the June 2016 quarter and Qualcomm grabbed its mobile customers. All of these factors are expected to drive up QCT revenue in fiscal 4Q16. The company also expects the QCT margin to double in fiscal 4Q16. We'll discuss this further in the next part of this series.