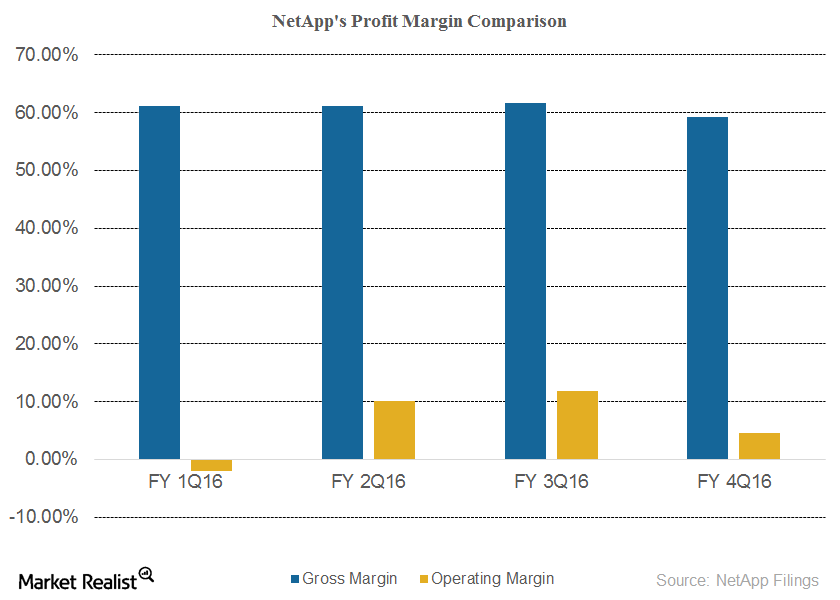 Can NetApp Improve Its Profit Margins in Fiscal 1Q17?
NetApp posted an operating loss in fiscal 1Q16
NetApp's (NTAP) operating income in fiscal 1Q16 was -2% compared to 10%, 11%, and 4.6%, respectively, in fiscals 2Q16, 3Q16, and 4Q16. The company's gross profit has been steady in the last four fiscal quarters, staying in the range of 59%–61%.
NetApp had previously stated that it was planning to focus on reducing its cost base, which would expand its profit margins. Earlier this year, NetApp launched a comprehensive cost reduction program that would ensure cost savings of $400 million by the end of fiscal 2017.
According to NetApp, the company wants to reinvest the above-mentioned savings into strategic opportunities, including SolidFire and other initiatives, yielding a net run rate savings of ~$130 million by the end of fiscal 2017.
Article continues below advertisement
NetApp reduced its employee headcount in fiscal 4Q16
In fiscal 4Q16, NetApp reduced its employee headcount by 11% compared to fiscal 3Q16, which resulted in a GAAP (generally accepted accounting principles) restructuring charge of $80 million and gross savings of $32 million.
In its fiscal 4Q16 earnings call, NetApp's chief financial officer Ronald Pasek stated, "We're driving additional changes that include implementing tighter cost controls over indirect spending, improving supply chain efficiency, portfolio streamlining, operational process redesign, and organizational restructuring and realignment."