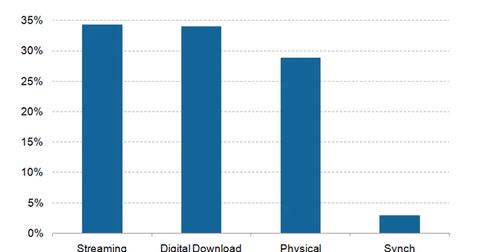 Apple Music Expands to South Korea
By Adam Rogers

Updated
Individual memberships to start at $7.99 per month
Earlier this month, Apple (AAPL) announced the launch of Apple Music, its music streaming platform, in South Korea. After the three-month free trial, Apple Music will offer individual memberships at $7.99 per month and family memberships for up to six people at $11.99 per month.
According to AppleInsider, Apple Music's subscription is priced lower in South Korea compared to other Asian markets due to "licensing negotiations with local music industry organizations, as well as other economic factors."
Article continues below advertisement
Apple Music hits 15 million subscribers
Apple Music was launched in 2015, and within that short time managed to attract 15 million subscribers. Apple is making efforts to grow its music streaming service, as the growth potential of this market remains high. According to a report from the Recording Industry Association of America, streaming was the largest component of the music industry in 2015 for the first time ever. The chart above shows the streaming component at 34.3% surpassing the digital downloads component at 34.0% in the United States.
In August 2016, Samsung (SSNLF) officially announced the end of its in-house Milk Music streaming services. The service was launched in 2014 and will come to an end in September 2016.
Samsung stated that it now wants to "invest in a partner model," where the firm will integrate third-party music services with its Galaxy devices. "We believe that working with partners will accelerate innovation, enhance device sales and provide amazing new experiences for our customers," Samsung said.