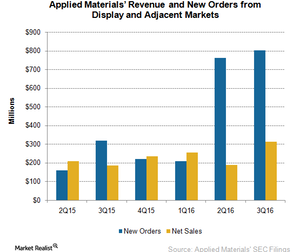 Applied Materials' Efforts in OLED Are Finally Materializing
By Puja Tayal

Updated
AMAT's Display and Adjacent Markets segment overview
The semiconductor industry has been maturing, and like many of its customers, Applied Materials (AMAT) has diversified into adjacent markets such as the display market, where it has been working on a new OLED (organic light-emitting diodes) technology.
Growth in AMAT's Display segment was also slow initially, but then it shot up in fiscal 2Q16 with the adoption of OLED by smartphone makers Samsung (SSNLF) and Apple (AAPL). These companies are trendsetters in the smartphone space, which means more and more handset makers will use OLED display panels in their handsets in the future.
Article continues below advertisement
Display and Adjacent Markets' fiscal 3Q16 performance
In fiscal 3Q16, AMAT expanded its Display segment to include roll-to-roll web coating systems from the Environmental Solutions segment and display equipment upgrades from the Services segment. The new segment is now called Display and Adjacent Markets and is expected to bring management synergies.
In fiscal 3Q16, display and adjacent markets revenue rose by 69% YoY (year-over-year) to a record $313 million, accounting for 11% of the company's revenue. The segment's non-GAAP (generally accepted accounting principles) operating margin rose from 19.5% in fiscal 3Q15 to 20.1% in fiscal 3Q16.
Display and Adjacent Markets' new orders rose by 153% YoY to a record $803 million in fiscal 3Q16, of which more than half of the orders came from China (MCHI).
Fiscal 4Q16 guidance
AMAT expects the segment's revenue to rise by 80% YoY to $423 million in fiscal 4Q16 on the back of a total order book of $2.43 billion. So far in fiscal 2016, this segment has earned $754 million in revenue and is on track to cross the $1 billion mark by the end of the fiscal year.
OLED industry outlook
OLED screens are lightweight, thin, flexible, energy efficient, and deliver high resolution, giving smartphones the much-needed innovation. A report from Apple Insider stated that Apple is shifting to OLED displays for its 2017 iPhones and has selected Samsung to supply the display panels.
During the company's fiscal 3Q16 earnings call, AMAT President Gary Dickerson stated that OLED technology is still in its "initial stage" and difficult to manufacture. However, its market size is three times the size of the traditional LCD (liquid crystal display) market. As the technology industry moves toward VR (virtual reality) and autonomous cars, OLED may become the standard for VR headsets and phones.
AMAT is currently developing OLED technology further, and this requires capital. So let's take a look at the company's financial position for undertaking such a huge investment.