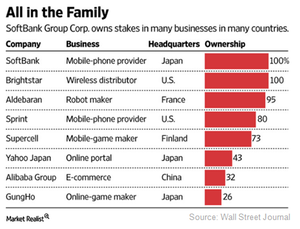 What Was SoftBank's Motivation to Buy ARM?
By Puja Tayal

Updated
SoftBank-ARM deal creates ambiguity among analysts
In the previous part of the series, we discussed how SoftBank is acquiring ARM Holdings (ARMH) at a 43% premium, which has raised concerns from SoftBank shareholders. But while the price tag and the ballooning debt of SoftBank are concerns, the even bigger aspect that has created ambivalence among many analysts is SoftBank's objective in acquiring ARM.
Let's take a closer look at SoftBank's strategy behind this conglomerate merger.
Article continues below advertisement
Softbank and ARM businesses at a glance
SoftBank earns the majority of its revenues from wireless carriers in Japan and the US. It owns a majority stake in US carrier Sprint (S), and it's now acquiring UK-based ARM, which designs semiconductors used in almost all of the world's devices, ranging from smartphones, to consumer electronics, to network infrastructure. Apple (AAPL), Qualcomm (QCOM), and Samsung (SSNLF) use ARM-based SoCs (system-on-chips) inside their smartphones.
ARM's designs power more than 95% of the world's smartphones, 80% of digital cameras, 25% of IoT (Internet of Things) devices, and 15% of networking devices.
SoftBank's strategy behind the merger
In this case, a telecom carrier business is not acquiring a smartphone manufacturer or a smartphone chip manufacturer but, rather, a chip designer. So there's no overlap in the business of the two companies, which removes the possibility of cost synergies from the acquisition and makes this a conglomerate merger with cross-selling opportunities.
SoftBank CEO Masayoshi Son is known for taking high risks. He expects ARM to be at the center of the IoT revolution, which would bring a "paradigm shift in human history." Masayoshi Son has a long term goal for ARM, envisioning that nearly every IoT device in the world could be powered by ARM designs. But to do that, SoftBank would have to invest heavily in ARM, even double its UK workforce, which would have to be focused on IoT devices.
Notably, this strategy marks a shift in SoftBank's strategy, from telecom services to IoT.
Analyst opinions
New Street Research technology analyst Kirk Boodry said, "We are seeing a pivot from the internet to infrastructure." Okasan Securities strategist Yoshinori Ogawa said, "It's difficult to see any near-term synergy between telecommunication and Internet of Things. There also is a conglomerate discount."
Jefferies analyst Atul Goyal said, "To us, the ARM acquisition … appears largely inconsistent with SoftBank's investment strategy. It does not inspire much confidence and requires deeper review."
But before we go further, let's look at the proposed deal from ARM's perspective.