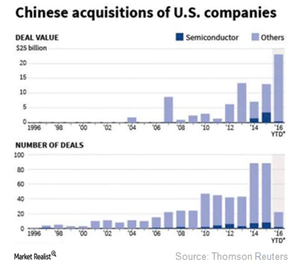 Marvell Attracts Interest from China
China's interest in Marvell
In the previous part of the series, we saw that Marvell Technology's (MRVL) new activist investor Starboard Value has caught the attention of several institutional investors. Among these were China's (AAXJ) state-owned Tsinghua Holdings, which disclosed its $78.2 million investment, or a ~2% stake, in Marvell in a Federal Trade Commission (or FTC) filing.
As per the FTC benchmark, a company with more than 5% holdings in a public company must disclose its holdings in an SEC (Securities Exchange Commission) document.
Tsinghua's disclosure in an FTC filing indicated that it had holdings of 2%–5% in Marvell. If the Chinese company has a stake on the higher end of the range, it's eligible for a place on Marvell's board and participation in the company's decision-making process.
Article continues below advertisement
Tsinghua's past acquisition attempts
Tsinghua's investment in Marvell indicates its interest in acquiring the company. This can be stated with a certain degree of surety, as Tsinghua has been an active acquirer in the 2015 semiconductor consolidation.
In 2015, Tsinghua Unigroup submitted a bid to acquire Micron Technology (MU), the only US DRAM (dynamic random access memory) manufacturer, for $23 billion. However, the bid was rejected by the US authorities due to national security concerns.
Marvell is a good acquisition target for China
All these attempts have been made as China looks to become independent in semiconductor manufacturing. The nation has the resources but lacks the IP (intellectual property) to manufacture memory chips. Because of this, it's looking to acquire multinational semiconductor companies to gain access to their IPs. Marvell's rich patent portfolio makes it an ideal acquisition target for China.
Marvell has an enterprise value of $2.6 billion. An influential activist investor such as Starboard Value could sell part or all of Marvell's business for $2.5 billion–$3 billion. Tsinghua could help the hedge fund find a potential buyer in China. However, a Chinese investor may only want to acquire part of Marvell instead of the entire company to avoid rejection by US authorities.
Another potential buyer could be Qualcomm (QCOM), which is looking to grow in the IoT (Internet of Things) and data center spaces. Qualcomm makes ARM-based server chips, and Marvell manufactures ARM-based SoCs (system-on-chip) for IoT and data center applications.
In the last two months, Marvell has launched a range of products to boost its sales. We'll look at these in the next part of the series.