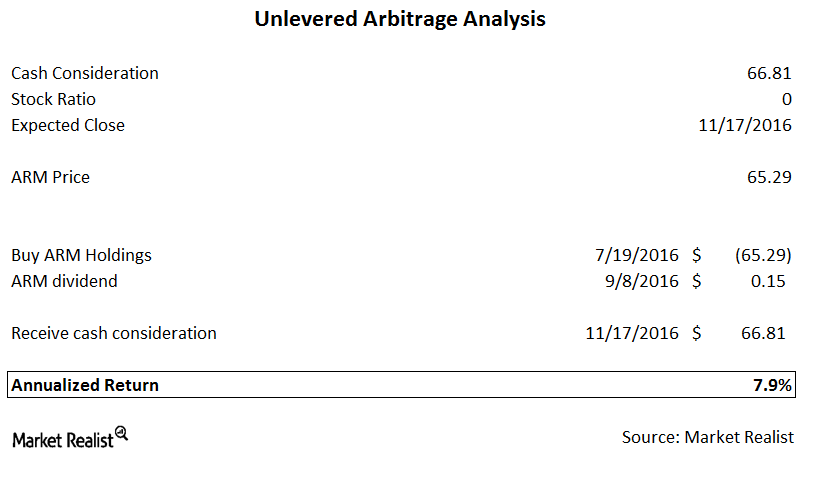 Making a Big Splash: Softbank Acquires the UK's ARM Holdings
By Brent Nyitray, CFA, MBA

Jul. 20 2016, Published 9:28 a.m. ET
Merger arbitrage
In merger arbitrage, an investor generally buys the stock of the company being acquired, short-sells the relevant ratio of the acquirer's stock if applicable, and waits for the deal to close. When the merger is complete, the investor exchanges the stock of the company being acquired for the amount agreed on in the deal.
Article continues below advertisement
Softbank buys IoT giant ARM Holdings
On July 18, Japan's Softbank and the United Kingdom's ARM Holdings (ARMH) announced a merger where Softbank will buy ARM for 1,700 pence in cash. Softbank is run by Masayoshi Son—a tech entrepreneur. ARM Holdings is a chip company focusing on the IoT (Internet of Things).
The 1,700 pence per share price works out to be an enterprise value of $30 billion—including ARM's net debt. ARM primarily trades on the London Stock Exchange. However, its ADR (American depositary receipt) is relatively liquid. Each ADR represents three ordinary shares. To work out the consideration, multiply 1,700 pence (or 17 pounds) times three and then multiply it by the pound-US dollar exchange rate of 1.31. The value of the ADR will be about $66.81. This spread assumes that the investor hedges out the foreign exchange risk immediately.
The merger will be handled under a Scheme of Arrangement, which is a shareholder vote followed by approval from the courts. Generally speaking, the cCourt approval is pro forma and usually happens on the same day.
Assuming you buy ARM Holdings at the current levels, the spread works out to be about 7.9% annualized. As far as merger arbitrage returns, that's a decent spread. It speaks to both the quality of the buyer and at least some possibility of a competing buyer. Note that the tax implications of this transaction could impact US investors. The United Kingdom charges a 50 basis point stamp tax on all purchase transactions. Professional arbitrageurs can avoid that tax using certificates of differences. Retail investors may be able to find a way around it as well. As a general rule, arbitrage spreads in the United Kingdom trade as if the stamp tax doesn't exist.
Article continues below advertisement
Merger arbitrage resources