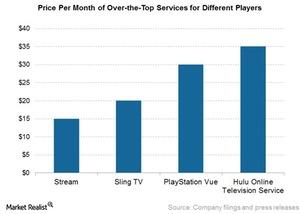 How Hulu Is Trying to Thwart Its Competition
By Shirley Pelts

Updated
Are Hulu viewers watching less content?
According to a BGR report from last week, citing a report from AllFlicks, viewers spent less time on 21st Century Fox's (FOXA) Hulu watching content and more on Netflix (NFLX). According to the AllFlicks report, Netflix viewers watched content for more than an hour and 40 minutes each day while Hulu viewers watched content for an hour and 7 minutes.
One factor in the AllFlicks report stated that some of Hulu's content is "less conducive to binge watching" compared to Netflix. The report also states that another reason could be Hulu's advertising "that are causing viewers to end their viewing sessions sooner."
However, Hulu already offers an ad-free option for its users at $11.99 per month in addition to its existing $7.99 per month service. But FOXA has observed that many of Hulu's $7.99-per-month subscribers haven't switched to the ad-free plan.
21st Century Fox is also experimenting with a reduction in its advertising load for Hulu using TrueX technology. 80% of Hulu viewers choose to engage with ads for 45 seconds before the start of a show.
Article continues below advertisement
Hulu's online television service
Hulu's new online television service is expected to launch in 1Q17. According to a FierceCable report from last month, citing a report from Cord Cutter News, Hulu's new service is likely to be priced at $35 per month.
As the above graph shows, Hulu's online television service is priced at the higher end of the spectrum at $35 per month. That price compares to Comcast's (CMCSA) Stream, an IP- (Internet Protocol) based streaming service, at $15 per month. In contrast, Dish Network's (DISH) Sling TV and Sony's (SNE) PlayStation Vue are priced at $20 and $30 per month, respectively.
21st Century Fox is an equal stakeholder with Disney and Comcast in Hulu. FOXA referred to Hulu's new online television service at Bernstein's Strategic Decisions Conference earlier in June. It stated that it would be an "incredible customer experience" for consumers since the new service would combine programming across various genres.