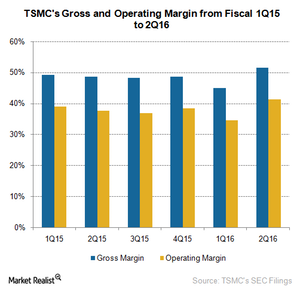 What Drove TSMC's Margins to a Record High?
TSMC's margins rose to a record high in fiscal 2Q16
In the previous part of the series, we discussed how TSMC (TSM) witnessed growing demand from Chinese handset makers, which helped fill the gap created by the slowdown in global smartphone shipments and the decline in Apple's (AAPL) iPhone sales. While Qualcomm (QCOM) shifted the production of its high-end Snapdragon 820 to Samsung (SSNLF), it retained the production of low-end chips with TSMC.
The shift in demand from high-end smartphones to mid- and low-end smartphones bodes well for TSMC as demand for lower-end Qualcomm chipsets from Chinese brands improved the foundry's factory utilization. This boosted the foundry's gross margin to a record high.
Article continues below advertisement
Gross margin
In fiscal 2Q16, TSMC's gross margin rose to a record high of 51.5%, beating its own guidance of 51% as well as the 48.5% it reported in fiscal 2Q15 and the 44.9% it reported in fiscal 1Q16. Its gross margin grew by 6.6 percentage points sequentially because of a weak fiscal 1Q16. The Taiwan earthquake in February 2016 impacted the foundry's fiscal 1Q16 revenue and gross margin because operations were closed for a few days.
Fiscal 2Q16 benefitted from the recovery of the delayed production, however. The foundry expects to maintain a gross margin of between 50% and 52% in fiscal 3Q16 as well. The guidance comes on the back of strong orders received by Apple for its iPhone 7 chips. However, many analysts are concerned that this growth may not be sustainable because smartphone sales growth is slowing to a single-digit percentage. If the iPhone 7 fails to replicate the success of the iPhone 6s and 6s Plus, an even bigger production cut is likely from Apple.
Operating margin
On the operations front, the company's operating margin rose from 37.6% in fiscal 2Q15 to 41.2% in fiscal 2Q16. This is the first time in six quarters that the operating margin crossed the 40% mark, and the company expects to maintain the metric between 39.5% and 41.5% in fiscal 3Q16. However, net margins fell from 38.7% in fiscal 2Q15 to 32.7% in fiscal 2Q16 because the foundry incurred a higher income tax on accrued retained earnings.
TSMC's EPS (earnings per share) fell by 8.7% YoY (year-over-year) to $0.09 in fiscal 2Q16 as ASML Holding (ASML) and Vanguard disposed of their shares in TSMC. But this is a non-recurring event, and if we look at the figures excluding this event, the company's EPS rose by 17% YoY.
In its fiscal 2Q16 earnings call, TSMC also provided an update on technology innovations and announced an increase in capital expenditure. We'll take a closer look at these updates in the next part.