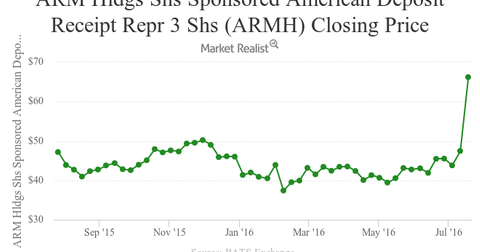 Why ARM Accepted SoftBank's Acquisition Offer
By Puja Tayal

Updated
SoftBank strategically bids for ARM
In the previous part of the series, we discussed how, with the acquisition of ARM Holdings (ARMH), SoftBank CEO Masayoshi Son has the long-term vision of becoming a pioneer in the IoT (Internet of Things) arena, which he believes would bring a "paradigm shift in human history."
Many analysts say that SoftBank's acquisition timing is perfect both politically and financially. The offer comes a few days after the UK's announcement of its decision to exit the EU, otherwise known as "Brexit." The pound has fallen 11% since the Brexit vote took place on July 24, 2015. The pound is currently at a 30-year low, making the ARM acquisition $4 billion cheaper for SoftBank. However, Masayoshi Son denies this benefit, stating that ARM's shares rose on the Brexit news, more than offsetting any discount from the weak pound.
[marketrealist-chart id=1485272]
In a normal political scenario, the acquisition of the UK's (EWU) largest tech company by an overseas buyer would have called for political scrutiny. But due to Brexit, the ARM acquisition was welcomed by the UK on grounds that the deal shows overseas buyers' confidence in the UK economy.
In any case, SoftBank was very strategic in its offer to buy ARM. But why did ARM agree to get acquired?
Article continues below advertisement
What's in it for ARM?
ARM has sufficient cash reserves to meet its long-term capital needs. ARM is also profitable, and the acquisition with SoftBank would not bring any synergies in terms of technology, product offerings, or competition. So what made ARM accept SoftBank's offer?
ARM had no intention of being acquired. But SoftBank made an attractive offer while assuring ARM that the acquisition would bring no significant changes in the latter's functionality. Instead, it would plug even more money into ARM, doubling its UK workforce.
Still, if ARM's operations would remain separate—even after the acquisition—what's the benefit for ARM in agreeing to the deal?
Culture of "short-termism"
Some analysts came to a conclusion that for ARM, the deal is just an immediate 43% premium to investors on their shares. This thinking represents a culture of "short-termism" among British investors, which has been criticized by many analysts and industry veterans, because such a culture incentivizes hedge fund activism at the cost of long-term growth.
If we look at ARM, the slowdown in smartphone sales may slow its revenue growth in the short term. But in the long term, ARM would be at the center of IoT (Internet of Things), with its architecture being used by the likes of Apple (AAPL) and Samsung (SSNLF). It would also give tough competition to Intel's (INTC) IoT efforts.