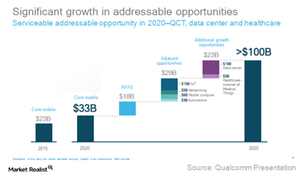 Adjacent Markets to Drive Qualcomm's Revenue in the Long Term
By Puja Tayal

Updated
Adjacent markets
In the previous part of this series, we saw that Qualcomm (QCOM) is taking aggressive steps to secure licensing deals with as many Chinese handset makers as possible. This would allow the company to improve its licensing revenue amid slowing smartphone sales. Qualcomm is also making efforts in the 5G space by developing new technology to encourage end consumers to buy phones.
All these efforts may not be able to generate significant growth if the overall smartphone market remains weak. So, Qualcomm is working to expand to adjacent markets in order to use its wireless technologies.
Article continues below advertisement
IoT
One market that holds strong potential for Qualcomm chips is the IoT (Internet-of-Things) space. Qualcomm has launched an LTE[1. long-term evolution] modem for battery-powered IoT devices to increase their communication range. The MDM9207-1 modem supports 10 Mbps (megabits per second) download speed and has a battery life of ten years on two AA batteries.
The company also launched a low-end mobile chip Snapdragon Wear 1100 for wearables such as fitness trackers, smart headsets, and smartwatches. It also redesigned its Snapdragon 801 for drones, naming the chip Snapdragon Flight.
Automotive
Qualcomm is testing its Snapdragon 602A chip with Audi. The first cars powered by these chips would be shipped in 2017. Qualcomm is also working on Zeroth, deep learning software designed for use in autonomous cars.
Unlike Intel's (INTC) x86 chips, ARM-based chips are best suited for low-powered devices. Qualcomm's ARM-based chips allow the company to have an edge over Intel in the mobile space, and it is likely to have an edge in the IoT space as well.
Data center
Qualcomm is looking to test its ARM-based chipsets in the server space. Applied Micro Circuits, Cavium, Broadcom (AVGO), and Advanced Micro Devices (AMD) tried to grab a market share using ARM-based server chips but failed. However, Qualcomm is better placed than the rest to tap the opportunity for power-efficient servers.
Qualcomm has partnered with Red Hat (RHT) to test ARM-based server chips. It also partnered with China's Guizhou province to build server processors and a cloud service center in the province. According to a Bloomberg article, Qualcomm and Google (GOOG) are in partnership talks to use Qualcomm's server chips for Google's data centers.
Qualcomm expects these adjacent markets to contribute ~$2.5 billion toward QCT (Qualcomm CDMA Technologies) revenue in fiscal 2016.