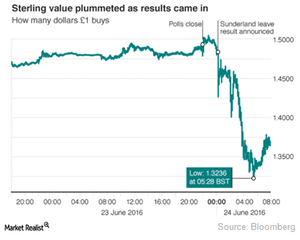 How Will a Devalued GBP Impact Britain's Semiconductor Industry?
By Puja Tayal

Updated
Brexit's impact on Britain's economy
In the previous part of the series, we saw that the global semiconductor industry would not be significantly impacted by Brexit due to the industry's reduced exposure in Europe, especially in Britain.
Moreover, the removal of the free trade agreement that Britain enjoyed as part of the EU (European Union) would encourage foreign companies to exit the country, leading to capital outflows.
The news of Brexit saw the British pound fall by 7% against the euro in the early morning on June 24, 2016. This fall lessened to 5.3% by noon. On the same day, the pound fell by more than 10% against the US dollar in the early morning, recovering to nearly 8% by noon. According to currency traders, these currency movements were more extreme than the ones witnessed during the 2008 financial crisis.
It's uncertain whether this devaluation will continue, but if it does, there will be several repercussions for Britain and its trading partners.
Article continues below advertisement
United States 
A strong dollar would make US exports expensive for Britain and British imports cheaper for the United States. US semiconductor companies would see reduced demand from Britain. Moreover, a strong dollar would discourage British companies such as Dialog Semiconductor from acquiring US semiconductor companies.
Singapore
Singapore (EWS) is a semiconductor manufacturing hub, with many multinational companies operating their fabrication facilities there. According to the Economic Development Board, Singapore's semiconductor output rose by 16.6% in May 2016. A weaker pound could make it expensive for Britain to invest in other countries, including Singapore.
UK companies with operations in Singapore such as Dialog Semiconductor may adopt a cautious approach when investing in the country.
Article continues below advertisement
Korea
The devaluation of the pound could encourage Korea to offer competitive pricing by proposing free trade between the two countries. However, trade of semiconductors, computers, and smartphones would see minimal impact, as they are among the 201 high-tech products that are exempt from custom duties under the World Trade Organization's Information Technology Agreement. This could bode well for Korean companies such as Samsung (SSNLF) and SK Hynix.
European Union
While Brexit would hamper trade relations between the EU and Britain, European leaders also fear that it could create a domino effect and encourage other nations such as France, the Netherlands, Italy, and Germany to exit.
If these nations decide to exit, the semiconductor industry will be negatively impacted, especially NXP Semiconductors (NXPI). However, this is a problem for the future, and it's unlikely to impact semiconductor stocks in the short term.
In the next part of the series, we'll look at Brexit's impact on major semiconductor stocks, from Intel (INTC) to Applied Materials (AMAT).