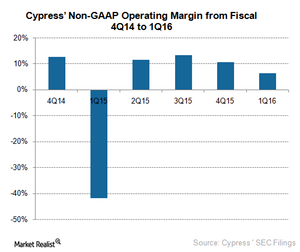 How Did Spansion Merger Synergies Affect Cypress's Earnings?
By Puja Tayal

Jul. 6 2016, Updated 6:05 p.m. ET
Cypress's operational efficiency
In the previous part of this series, we looked at how Cypress Semiconductor (CY) expects its revenue and gross margin to improve in fiscal 2Q16 as seasonal demand picks up. While revenues and gross margins are directly related to the market demand, operating expenses are under the company's control and show its operational efficiency. At the time of the Spansion merger, Cypress expected to realize $135 million in annual cost synergies. It now expects to realize around $180 million in merger synergies by the end of fiscal 2016. Let's look at these synergies more closely.
Article continues below advertisement
Operating margin
Unlike the gross margin, Cypress' non-GAAP (generally accepted accounting principles) operating margin did not take a hit due to the Spansion merger. In fiscal 2Q15, after the Spansion integration, the combined company's operating expenses peaked at $140 million. However, the cost synergies were realized in fiscal 3Q15 and the combined company's operating expenses fell to $129 million. During these two quarters, the operating margin stood at 11.4% and 13.2%, respectively. This is because these are seasonally strong quarters.
In fiscal 1Q16, the operating margin fell to 6.2%, while operating expenses fell to $124.9 million. Seasonality can lead to revenues falling faster than operating expenses.
For fiscal 2Q16, the company expects non-GAAP operating expenses to fall further, to $123 million at the midpoint. With revenues rising and operating expenses falling, the operating margin is likely to grow above 10% in fiscal 2Q16.
The Spansion merger reduced the combined company's workforce by over 1,200. When a merger or acquisition happens, the combined company streamlines its operations. For instance, Broadcom (AVGO) sold off its wireless IoT (Internet of Things) operations to Cypress.
Another way to reduce the operating expense is through restructuring. Intel (INTC) announced that it cut 12,000 jobs as part of its restructuring efforts. Qualcomm (QCOM) is also undergoing restructuring and achieved cost savings of $1.4 billion.
Earnings per share
For fiscal 2Q16, Cypress expects its non-GAAP EPS (earnings per share) to be in the range of $0.10 to $0.14, meeting the consensus estimate of $0.11. This estimate is higher than the fiscal 1Q16 EPS of $0.07. This is a waterfall effect of higher revenues arising from seasonal demand and the company's operational efficiency. Next, we'll look at the company's products and their impact on earnings.
The iShares Russell 1000 Value ETF (IWD) has holdings in large-cap US equities across various sectors. It has a 1.4% exposure to INTC, a 0.03% exposure to CY, a 0.69% exposure to QCOM, and a 0.17% exposure to AVGO.