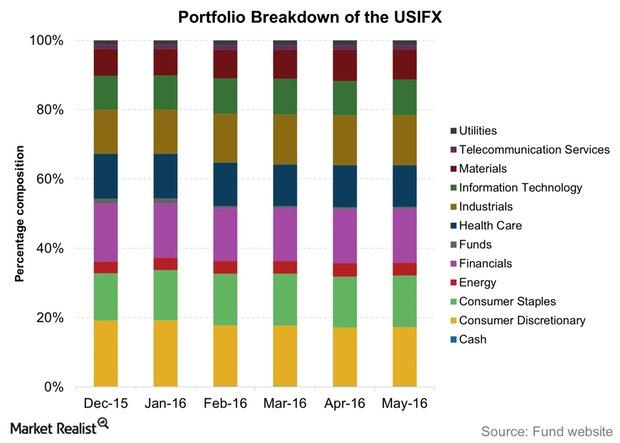 Portfolio Moves of the USAA International Fund in YTD 2016
By David Ashworth

Jun. 25 2016, Published 1:39 a.m. ET
USAA International Fund overview
The USAA International Fund (USIFX) invests at least 80% of its assets in foreign equities. Apart from common stocks, the fund can invest in preferred stocks, depositary receipts, convertible securities, and rights and warrants. The fund is managed by a team of sub-advisers from three different firms.
Although the fund aims to invest in different countries throughout the world, it can invest a sizable portion of its assets in a single country, a group of countries, or a region.
The fund can invest across market caps and makes use of a blend of bottom-up and top-down analysis. The fund's management looks at factors like a company's earnings, cash flows, competitive position, and management ability.
The fund's assets were spread across 614 holdings in May 2016, and it was managing $3.4 billion in assets. In February (the latest available report), its equity holdings included WPP (WPPGF), Yum! Brands (YUM), Nestlé (NSRGY), Danone (DANOY), and ING Groep N.V. (ING).
Article continues below advertisement
Portfolio changes in the USAA International Fund
The consumer discretionary sector is the largest sectoral holding of USIFX. It is followed by financials and consumer staples, in that order. The top three sectors form 47% of the fund's portfolio.
The United Kingdom is the largest invested geography, forming 14.4% of the assets. Japan follows, comprising 12.3% of the portfolio. France, Switzerland, and Germany round off the top five invested countries.
Although consumer discretionary is the highest invested sector, its weight has decreased from a year ago. Staples, financials, and healthcare also form less of the portfolio than they did in May 2015.
On the other hand, sectors like industrials, information technology, and telecom services have seen a bump in their share of the portfolio pie compared to May 2015.
Assets of USIFX are spread across the largest number of stocks among the 12 funds in this review. An important aspect of the fund is its low portfolio turnover.
How has the USAA International Fund (USIFX) fared in YTD 2016? Let's look at that in the next article.