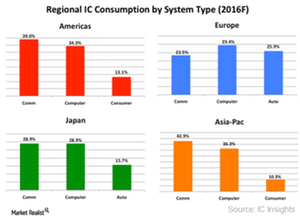 How Might Brexit Impact European Semiconductor Companies?
By Puja Tayal

Jun. 30 2016, Updated 8:06 a.m. ET
Brexit's impact on European semiconductor companies
In the previous article, we saw that US semiconductor companies expect to improve their fiscal 2016 revenues by launching new technologies. Their stocks have also been less affected by Brexit than their European counterparts.
Let's now look at Brexit's possible impact on European semiconductor companies.
IC Insights expects computers to be the largest semiconductor end market in Europe, accounting for 29.4% of integrated circuit sales in 2016. Computers are expected to be followed by automotive and communications, accounting for 25.9% and 23.5% of sales, respectively, in 2016.
Article continues below advertisement
Automotive
Netherlands-based NXP Semiconductor (NXPI) and Switzerland-based STMicroelectronics (STM) are among the top 20 semiconductor companies in the world, and both cater to the automotive industry. Germany (EWG) is the largest manufacturer of automotive and industrial products in Europe. However, Britain is the second-largest market for new car sales in Europe.
If Brexit ends the free trade agreement between Britain and Europe, exports of cars and car components would become lengthy and expensive. However, if the devaluation of the British pound continues, importing cars and car components could become expensive for Britain, hampering automotive demand.
The Brexit procedure will take a minimum of two years, and free trade between Britain and the EU (European Union) will continue until then. No significant impact is expected in the short term. However, uncertainty will loom during this period, reducing business confidence in Britain, and foreign companies may look to exit the market.
ARM Holdings
On the other hand, Brexit will likely improve UK-based ARM Holdings' (ARMH) earnings in the short term. The company sells mobile and PC (personal computer) chips in US dollars, but it reports its earnings and expenses in pounds. A stronger dollar will increase its revenue, and a weaker pound will reduce its costs, thus expanding its margins.
According to Jefferies analyst Robert Lamb, the devaluation of the pound by almost 10% against the dollar would increase ARM's EPS (earnings per share) by 15%. According to FactSheet data, ARM earned ~38% of its revenue from the United States in 2015, with Apple (AAPL), Qualcomm (QCOM), and Texas Instruments (TXN) among its largest customers.
However, falls in the euro and the pound could affect ARM's revenue, as it earns a major portion of its licensing fees in these two currencies.
In all, Brexit's short-term impact could be felt due to currency devaluation, and its long-term impact could be felt if a favorable trade agreement isn't reached between Britain and the EU. It's difficult to say how the economy will react, as this is the first time a country is exiting the bloc.