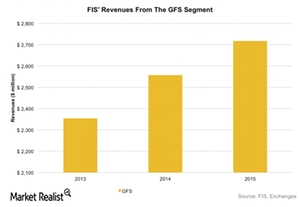 The Ins and Outs of FIS's Global Financial Solutions Segment
By Rebecca Keats

Jun. 2 2016, Updated 2:06 p.m. ET
Segment overview
Fidelity National Information Services' (FIS) GFS (Global Financial Solutions) segment offers large financial institutions worldwide with payment services, consulting services, and transformational services.
In 2015, this segment reported revenues of $2.7 billion, which was 6% higher than in 2014. This increased revenue contribution was primarily attributable to incremental revenues from the acquisitions of SunGard and Clear2Pay and from the company's expanding presence in India and favorable growth in Europe and Latin America.
Clients in the GFS segment include the largest financial institutions in the world. After the SunGard acquisition, GFS's clients include asset managers, securities trading firms, insurance firms, private equity firms, and local governments.
Article continues below advertisement
Unique environments
We should note that these institutions face unique business environments and regulatory challenges. Client contracts with this segment are different from those of IFS clients. While IFS clients typically enter outsourced contracts, GFS clients purchase solutions as licensing and managing in house, consulting, and third-party service providers as well as fully outsourced solutions. Long established relationships with these clients generate significantly stable and recurring revenue.
GFS operates through the following three sub-segments:
Institutional and Wholesale
Banking and Payments
Consulting
Key service offerings
The institutional and wholesale services area is derived from assets acquired through SunGard. Key offerings in this segment include:
post-trade processing—processing and settlement, risk management, securities lending, syndicated lending, tax processing, and regulatory compliance
global trading—trade execution, data and network solutions for financial institutions
risk and compliance—advanced authentication procedures, predictive analytics, artificial intelligence modeling, and proprietary and shared databases to detect frauds, and compliance support
Key offerings in the Banking and Payments segment include:
core banking—processing solutions, application management, software licensing and maintenance, and facilities management
channel solutions—lending and wealth management solutions for international clients
back-office processing—support systems and compliance support
payments—fully outsourced card-issuer services, customer support, payment processing and switching services, prepaid and debit card processing, item processing, software licensing and maintenance, and outsourced ATM management
The Consulting sub-group focuses on providing complex, integrated consulting, technology and complex, large-scale IT transformation services to financial institutions through Capco.
Notably, this segment's main competitors include Fiserv (FISV) and Jack Henry & Associates (JKHY). Investors seeking diversified exposure to these stocks can consider investing in the SPDR S&P 500 ETF (SPY) or the SPDR Technology ETF (XLK).
In the next part, we'll analyze FIS's growth strategies.