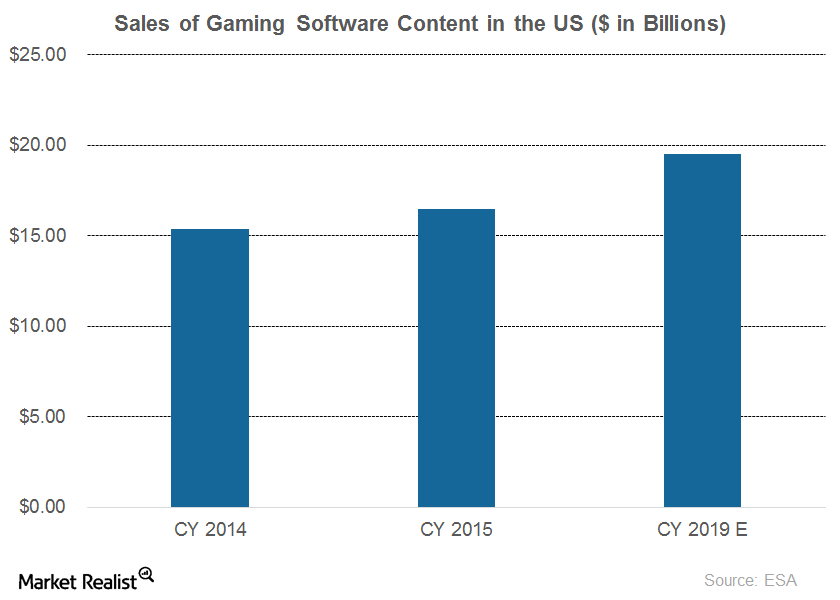 How Did the US Video Gaming Industry Perform in 2015?
By Adam Rogers

Jun. 7 2016, Updated 12:06 p.m. ET
Revenues of $23.5 billion in 2015
According to data released by the Entertainment Software Association (or ESA) and NPD Group earlier this year, the US (SPY) computer and video gaming industry generated $23.5 billion in revenues for 2015.
In comparison, reported sales for 2014 stood at $22.4 billion, indicating an increase of 5% YoY (year-over-year) in total consumer spending.
Article continues below advertisement
Sales of software content projected to reach $19.6 billion in 2019
Sales of software content rose by 7% YoY from $15.4 billion in 2014 to $16.5 billion in 2015. Software content includes mobile games, physical packaged goods, subscriptions, and downloadable content.
"The video game industry excels because it anticipates demand—giving people what they want before they realize that they want it—and drives trends in entertainment and across countless other sectors. Our products are revolutionizing how we consume and interact with media," said Michael D. Gallagher, president and CEO of the ESA, which represents the US video game industry. "We know that hardware and software innovations have established this industry as a leader in high-tech development."
Electronic Arts's revenues rose by 15.8% between fiscal 2013 and fiscal 2016. In comparison, revenues of its peers Activision (ATVI), TakeTwo (TTWO), and Zynga (ZNGA) returned -4%, 16.4%, and -17%, respectively, in the last three years.
Video game industry growing rapidly in the US
The ESA stated that the video game industry in the US is one of the country's fastest-growing sectors. In 2012, the video game industry added $6.2 billion to the US economy. Between 2009–2012, employment in the video game sector grew at a CAGR (compounded annual growth rate) of 9%.
In 2012, employees in the entertainment software industry earned an average of $95,000 per year. This was almost twice that of the average US household income.
EA and Activision account for 1.2% of the Technology Select Sector SPDR ETF (XLK).