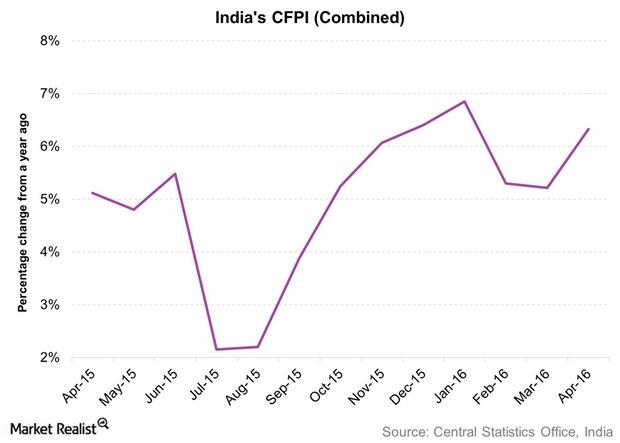 Food Prices and Monsoon Season: Crucial for India's Rate Policy
By David Ashworth

Jun. 8 2016, Published 9:44 a.m. ET
Importance of food prices
India's official statistics agency, the CSO (Central Statistics Office), publishes the CPI (consumer price index) on a monthly basis. Along with the CPI, it publishes the CFPI (Consumer Food Price Index). The CFPI accounts for 47% of the overall CPI. This makes food prices quite important for inflation and, in turn, for monetary policy in India. Food prices were primarily responsible for a rise in CPI growth in April, which, in turn, made policymakers cautious about loosening monetary policy further.
Article continues below advertisement
In its monetary policy statement for June, the Reserve Bank of India stated that the rise in inflation among the food groups was particularly sharp for vegetables, fruits, sugar, meat, and fish. The earlier drop in prices of pulses was reversed in April, with pulse prices hardening. Inflation also firmed up for edible oils, spices, and nonalcoholic beverages. Efficient supply management kept cereal prices low, though.
Due to this rise in food prices, along with fuel prices, three-month household inflation expectations rose a bit in May.
Why monsoons are important
To keep food inflation in check, monsoon rains are crucial for India. Farmers are quite dependent on rains for a good harvest. Scanty rainfall in the past two seasons has been partly responsible for a rise in food prices.
Monsoon rains are projected to be above normal, especially in India's plains. If this happens, it will help to cap a rise in food prices, which will assist India's central bank in reaching its objective of a CPI below 5% by March 2017. It will also help to further loosen India's monetary policy.
Investors in India-focused mutual funds (EPI) (WAINX) should continue to monitor CPI growth as it will determine how long the RBI (Reserve Bank of India) will continue to remain accommodative. A change in the repo rate will impact interest rate–sensitive sectors and industries like financials (HDB) (IBN), autos (TTM), and technology (WIT) (INFY).
Before moving on to issues like the future course of monetary policy, let's see how the Market reacted to the June monetary policy in India in the next part of this series.