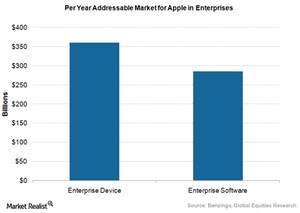 Apple's Mobility Partner Program Continues to Grow
By Puneet Sikka

Updated
Apple's partnership with IBM grows
Apple (AAPL) continues to make progress on its initiatives to penetrate enterprises. According to Apple, the company's Mobility Partner Program now has 108 partners across 20 countries, up from 75 partners at the end of September 2015. Apple entered into a long-term partnership with IBM (IBM) in 2014 and collaborated with Cisco (CSCO) last year. With IBM, Apple is now involved in more than 200 deployments of its iOS app for enterprises.
Article continues below advertisement
According to Apple, it sees "continued broad industry adoption of native iOS apps to transform how professionals do their work and serve their customers. For example, retail bankers are using iOS apps on iPads to greet and onboard customers, reduce queue times, and improve the customer experience. And in hospitals, using doctors and nurses are using iOS Apps on iPhone and iPad to share and communicate more effectively, so that they can spend more time with patients, and less time on administrative tasks."
Apple is just scratching the surface of the enterprise market
In May this year, Apple announced its collaboration with the German (EWG) company SAP (SAP). Apple's iOS and SAP's HANA cloud platform will be integrated to provide enterprises with productivity apps.
In these partnerships, Apple's underlying motive is to sell more iPhones and iPads to enterprises. Benzinga, citing Global Equities Research, stated that, per year, the enterprise device market is a $360 billion opportunity and enterprise software is a $285 billion opportunity for Apple. However, Apple is still just scratching the surface when it comes to the overall enterprise market. Apple reported that it earned revenues of $25 billion from enterprises between June 2014 and June 2015, which is only 4% of the overall enterprise market.