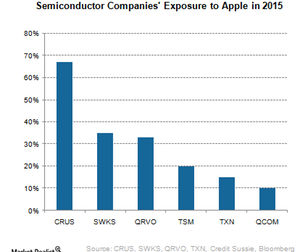 How Will the iPhone 7 Impact Texas Instruments' Revenue?
By Puja Tayal

Updated
Texas Instruments' exposure to Apple
In the previous part of the series, we saw that Texas Instruments (TXN) is diversifying into adjacent markets. But Apple (AAPL) continues to be its largest customer. The analog maker reported strong growth in the second half of fiscal 2015, as the iPhone 6s and 6s Plus reported record sales.
History may repeat itself if the iPhone 7 turns out to be an even bigger success than the iPhone 6s and 6s Plus.
Article continues below advertisement
iPhone 7 production rumor
Taiwan's (EWT) Economic Daily News reported that Apple has instructed its component suppliers to produce components for the iPhone 7 in quantities sufficient for 72 million–78 million smartphones. This marks the highest production since 2014 when the iPhone 6 was launched and greater than the analyst estimate of around 65 million units.
Impact on Apple suppliers
If the above rumor holds true, it would significantly boost sales of suppliers with large exposures to Apple in 3Q16 and 4Q16. Let's look at some of those suppliers.
Texas Instruments earns around 15% of its revenue from Apple by supplying four types of analog components for iPhones.
Cirrus Logic (CRUS) earns 67% of its revenue from Apple and has been selected to supply noise cancellation headphones for the iPhone 7.
Qorvo (QRVO) earns ~33% of its revenue from Apple. In its most recent earnings, the chipmaker stated that one of its top two customers has good selling products with high content.
Skyworks (SWKS) earns an estimated 35%–40% of its revenue from Apple by supplying RF (radio frequency) content. This content is expected to grow by 20% with the iPhone 7.
Qualcomm (QCOM) earns more than 10% of its revenue from Apple by supplying LTE (Long Term Evolution) modems for iPhones. There have been rumors that Intel (INTC) would supply around 30% of LTE modems for the iPhone 7.
Taiwan Semiconductor Manufacturing (TSM) earns an estimated 20% of its revenue from Apple. It would produce A10 chips for Apple on its 16nm (nanometer) process node.
There are other suppliers such as Micron Technology, Analog Devices, NXP Semiconductors, and Samsung that would witness growth from the success of the iPhone 7.
Texas Instruments boosts profits
Any impact from the iPhone 7 would show up in fiscal 3Q16 and beyond. In the meantime, revenues continue to decline. In spite of these declines, Texas Instruments managed to improve profitability through restructuring. We'll look at this in the next part of the series.