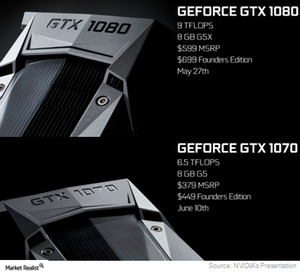 What's NVIDIA's Pricing Strategy for Its Pascal GPUs?
By Puja Tayal

May. 20 2016, Updated 3:06 a.m. ET
Pascal's pricing strategy at a glance
In the previous part of the series, we saw that NVIDIA (NVDA) launched its Pascal architecture, which delivers twice the performance of its predecessor Maxwell. This is because it shifted from Taiwan-based (EWT) TSMC's (TSM) 28nm (nanometer) technology to 16nm FinFET (fin-shaped field effect transistor) technology, which delivers better performance while reducing the cost of manufacturing.
Now let's look at the pricing structure of Pascal and compare it with the pricing structure of Advanced Micro Devices' (AMD) Polaris, which was built with Samsung's (SSNLF) 14nm FinFET technology.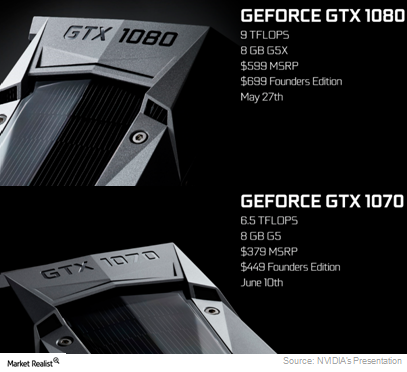 Article continues below advertisement
GTX 1080 and 1070 pricing
The GTX 1080 and 1070 are priced at $599 and $379, respectively. The GTX 1080 is 40% less expensive than the Titan X, which is priced at $1,000. However, GTX 1080 and 1070 are each $50 more expensive than the GTX 980 and 970 launch prices of $549 and $329, respectively.
This raises the question of whether the two new Pascal GPUs are too expensive for gamers. Although NVIDIA has raised the prices of its GPUs (graphics processing units), the $50 increase doesn't look expensive when performance is taken into account.
GTX 1080 and 1070 Founders edition
In the previous part of the series, we saw that NVIDIA launched its Pascal products. These products were the Founders editions, and they are priced higher.
NVIDIA designs only GPUs, and they are manufactured by third-party add-in board partners. The Founders edition is a reference to GPUs that have the actual suggested overall design by NVIDIA without any modifications from third-party manufacturers.
NVIDIA cashes in on its brand goodwill by charging a premium price for its Founders editions. To avoid eating up its partners' market share, it will sell a limited number of reference cards. The Founders edition of the GTX 1080 will be available for $700 starting on May 27, 2016, and the Founders edition of the GTX 1070 will be available for $450 starting on June 10, 2016.
Rival AMD is launching a competing GPU, Polaris. If the two GPUs turn out to be equally competitive in terms of performance, price will become an important factor.
AMD has hinted that its Polaris GPU will target mainstream consumers moreso than high-end consumers, as a majority of its revenue comes from the former. There is ongoing speculation that Polaris GPUs may be priced at around $300.
It will be interesting to see how quickly Pascal goes from high-end to mainstream. It'll also be interesting to keep an eye on the timing of the Polaris launch. Both of these factors could change the game.