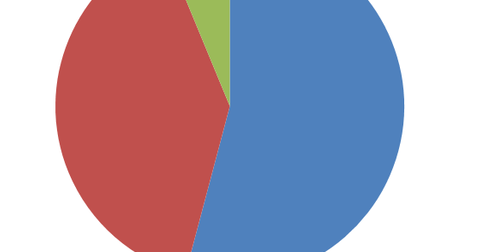 Did Teradata's Fiscal 1Q16 Results Beat Analyst Expectations?
By Anne Shields

Updated
Despite fall in revenues, Teradata's fiscal 1Q16 results exceeded analysts' expectations
Teradata (TDC), a US-based company that sells analytic data platforms, applications, and related services reported its fiscal 1Q16 earnings on May 5, 2016. FireEye (FEYE) and Tableau Software (DATA) were other companies in the tech space that announced their recent fiscal earnings on May 5, 2016.
Teradata reported revenues of $545 million and non-GAAP (generally accepted accounting principles) earnings per share of $0.47 in 1Q16, which exceeded analysts' expectations by $25.7 million and $0.10, respectively. Though Teradata's revenues in fiscal 1Q16 exceeded analysts' expectations, they fell 6.4% on a YoY (year-over-year) basis. However, Teradata's EPS of $0.47 grew by 57% in fiscal 1Q16.
On a GAAP basis, Teradata posted a $46 million loss in fiscal 1Q16.
Article continues below advertisement
Operating segment's performance
The above chart shows the proportionate contribution of the company's various segment towards overall revenue. In fiscal 1Q16, Teradata's Americas Data and Analytics segment, which contributed more than 50% towards overall revenues, fell 12% to $295 million. The company's International Data and Analytics segment grew 4% to $216 million. The Marketing Applications segment fell 11% to $34 million.
In late April 2016, Teradata sold its TMA (Teradata marketing applications) business to Marlin Equity Partners for $90 million. Teradata intends to focus on its data/analytics business after this sale.
Teradata's increased initiatives to clock growth
Teradata expanded the reach of its managed cloud offerings to Europe (EZU) in early 2016. In April 2016, Teradata announced the launch of IntelliFlex, which is likely to be available by 3Q16.
Intelliflex is a "massive parallel processing" data warehouse, which provides "multi-dimensional scalability, enabling companies to add processing power and storage capacity independently to meet their current and changing business requirements." Teradata's on-premise warehousing is expected to get a boost by Intelliflex, as it can deliver "up to 3x more memory for comparable performance" to its existing offerings.
The company claims that the Teradata Database, which is now available on Amazon's (AMZN) AWS, is "the first of multiple public cloud platform options to be available in the months ahead."
Teradata also announced the development of an IoT (Internet of Things) analytics unit in its labs. Oliver Ratzesberger, president of Teradata Labs, stated, "With the introduction of Teradata IntelliFlex, we are delivering unprecedented value in system availability, configuration flexibility, and hybrid in-memory computing."