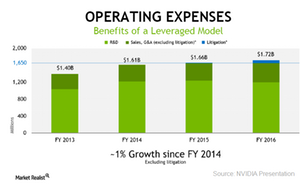 NVIDIA's Secret behind Growing Profit Margins
NVIDIA expands while maintaining costs
In the previous part of this series, we saw that NVIDIA (NVDA) boosted its revenue using the platform and network approach. It also replicating this effort in multiple markets such as gaming, data center, and automotive. Even Intel (INTC) and Qualcomm (QCOM) are looking to expand in the data center and automotive space and have increased their capital expenditure and R&D (research and development) spending.
The issue in NVIDIA's case is that its technology is expensive and the niche market it caters to is not large enough to sustain such high costs. So, the company had to develop a model that makes its technology affordable and yet generate a profit.
Surprisingly, NVIDIA maintained its R&D expenses around $1.2 billion for the past three years while expanding in the new markets. This helped it improve its gross and operating margins by 1% in fiscal 2015.
The only reason why expenses increased was the legal costs incurred by the company in its patent lawsuit against Samsung (SSNLF).
Article continues below advertisement
NVIDIA's strategy of leverage and scale
NVIDIA maintained its cost by leveraging a single architecture and scaling it across multiple markets. The company took that one architecture and spent its R&D money on developing an ecosystem of software and GPUs (graphics processing unit) designed to cater to a particular market. For instance, GeForce ecosystem caters to gaming, Quadro caters to workstations, Iray is designed for virtual reality, DRIVE is specific to automotive, and Tesla is designed for the data center market.
Among these ecosystems, the company upgraded the technology with enhanced software and hardware for improved applications. For instance, it launched GTX 960, 970, and 980 in GeForce platform. It also launched DRIVE PX and DRIVE CX for automotive. We will look at the new upgrades to each platform in the coming parts of the series.
The company, once known for its gaming GPUs, is now visible in almost all markets where we see growth, gaming, automotive, data center, industrial, and even niche markets such as drones. It is not just tapping these markets but eyeing the future trends of deep learning, virtual reality, and autonomous driving.
In the next part of this series, we will look at each of these segments in detail, starting with the core business of gaming. The SPDR S&P 500 ETF's (SPY) portfolio holds 0.10% in NVDA.