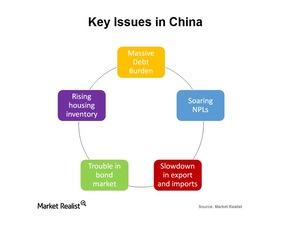 Key for Investors: 5 Issues Are Choking Real Growth in China
By Lynn Noah

Nov. 20 2020, Updated 2:26 p.m. ET
Deep slump in the Chinese economy
With the prolonged slump in China's manufacturing sector, the service sector has become a key source of economic and employment growth for China (TCWAX) (MCHI) (ASHR). As a result, China opted to transform itself into a service and consumption-oriented economy from a manufacturing and export-oriented economy. The transition hasn't been smooth. It raised concerns of hard lending amid the slowing economy.
A government official said that the economic growth in China (TSM) (CEO) (CHL) would be "L-shaped" rather than "U-shaped" or "V-shaped."
Article continues below advertisement
Massive debt burden
According to estimates from the Bank for International Settlements, China's debt-to-GDP (gross domestic product) ratio rose more than 240% at the end of 2015. The majority of the debt is from the local government. It provided loans at low rates for infrastructure development during the boom period.
Soaring NPLs
According to a quarterly report published by the China Banking Regulatory Commission, Chinese commercial banks' NPLs (non-performing loans) rose to an 11-year high of 1.4 trillion yuan or 1.8% of total bank lending. Many bank analysts think that the NPL situation in China's banking sector is far more severe than official data suggest. Some banks adopt untimely loan recognition and turn to off-balance sheet lending to hide bad debts.
Article continues below advertisement
Slow exports and imports
Exports have slowed down due to weak foreign demand. While imports are down more than exports, glut in the manufacturing sector along with sluggish domestic demand led to a sharp decline in imports.
Trouble in the bond market
China's bond market is faced with low liquidity, increased borrowing cost, and rising defaults. Standard & Poor's is trimming its assessment on Chinese firms.
The sharp bond sell-off in April along with the rapid rise in yields increased the risk of another run-up in defaults. It could have forced the central bank into much more aggressive action to avert a sharp credit crunch. More than 100 firms canceled at least $15 billion in debt issuance in April following defaults by state-owned firms like Dongbei Special Steel Group.
Article continues below advertisement
Rising housing inventory
Divergence in China's property market intensified in recent years. Home prices skyrocketed in top cities, stabilized in second-tier cities, and fell in smaller cities where supply outpaced demand due to a sluggish economy. The central government listed destocking as one of the top national priorities in 2016 to support the property sector. The sector accounts for about one-third of China's GDP. The government's recent moves, such as a reduction in the down payment from 25% to 20% for first-time homebuyers, may benefit second-tier cities where demand is strong. However, it may not apply to smaller cities that have a large inventory of unsold houses.
All eyes are on China
We think that 2016 will be challenging for the Chinese economy. With policy support and improved credit conditions, economic activity stabilized in 1Q16. The GDP expanded 6.7% annually in 1Q16. The economic activity may see an uptick in the coming months due to loose monetary policy along with more investments.
The time has come for the Chinese government and central bank to open up and become more transparent. The world is watching China closely. It needs to take aggressive measures rather than baby steps to put the economy back on a growth track. Only time will tell how effective these measures are at turning the slowing economy around. Until then, stay updated with the latest developments in the Chinese markets.
For more analysis on mutual funds, visit Market Realist's Mutual Funds page.