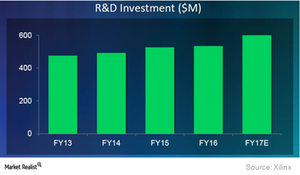 Inside Xilinx's Record R&D Spending Plans for Fiscal 2017
By Puja Tayal

Updated
Xilinx's R&D expenses
We've already discussed how the acquisition of Altera by Intel (INTC) has put increasing pressure on Xilinx (XLXX) to make a move to compete. And the latter company's cash reserves and resources for R&D (research and development) are ample. For this reason, Xilinx plans to increase its R&D expenses to a record high of more than $600 million in fiscal 2017—up almost 13% YoY (year-over-year).
With this money, the company will likely ramp up its 16 nm (nanometer) products and develop its 7 nm ones. It will likely do this in collaboration with TSMC (TSM), which has committed $10 billion in capital expenditure this year. At the same time, Xilinx is looking to maintain its gross and operating margin at fiscal 2016 levels in fiscal 2017.
Article continues below advertisement
Gross margin
Xilinx has maintained its gross margin at 65% and above over the past five years. It crossed 70% in fiscal 2015 and then fell to 69.7% in fiscal 2016. But the company expects to maintain its gross margin at 68%–70% in fiscal 2017.
The company managed to maintain a high gross margin as it was the first in the industry to adopt the fabless model. In this model, design and manufacturing are separated. Xilinx designs the products and TSMC manufactures them. This frees Xilinx from the fixed overhead costs associated with factories, meaning it can maintain high gross margin even during a slowdown in revenue.
By comparison, companies like Texas Instruments (TXN), which manufacture chips in house, face fixed overhead costs, and their gross margins are directly proportional to factory utilization.
Operating margin
Xilinx's operating margin crossed 30% for the first time in fiscal 2011. After two years of low margins, the company increased its margin above 30% again in fiscal 2014 and stayed above this level until fiscal 2016.
However, analysts believe that a 13% YoY increase in R&D expense might reduce the company's operating margin below 30% in fiscal 2017 because its revenues are unlikely to grow by double digits during the same period. Still, the company aims to maintain a margin above 30%, though to achieve this margin, the company would have to sell more high margin products.
Notably, the Semiconductor ETF (SMH) has holdings in 26 semiconductor companies, including 13.5% in INTC, 12.12% in TSM, 5.11% in TXN, and 2.78% in XLNX.
In the next and final part, we'll analyze the performance of Xilinx's stock over the past 52 weeks.