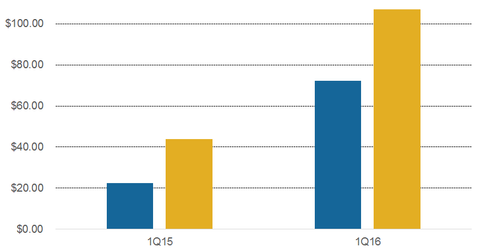 Why Fitbit Is Increasing Its Research and Development Spending in 1Q16
By Adam Rogers

Updated
Research and development in 1Q16
Fitbit's (FIT) investment in R&D (research and development) has started to reap benefits. A fitness and health device maker, Fitbit managed to grow its revenues from ~$336.8 million in 1Q15 to ~$505.4 million in 1Q16. Net income, however, fell to ~$11 million from ~$15.7 million in the same period.
This fall in net income despite a 50% increase in earnings was primarily due to a substantial increase by Fitbit in R&D spending. Fitbit spent ~$72.2 million in R&D in 1Q16, as compared to ~$22.4 million in 1Q15.
The company's sales and marketing expenditure also rose by 144% in 1Q16 to ~$107.1 million in 1Q16 from ~$43.9 million in 1Q15, as the chart below shows.
Article continues below advertisement
Fitbit CEO James Park stated that "Complementing our product and market knowledge is our continued investment in R&D. The fruits of R&D are not just about new sensors but also miniaturized form factors, more power efficient electronics, more fashionable designs, intuitive user interfaces and engaging social and community features."
R&D powers innovation for Fitbit
Driven by continuous spending on R&D, Fitbit's devices with Pure Pulse heart rate technology can last up to five days, depending on usage and other factors. The firm's investment in software has resulted in the increased retention of users over time.
The firm stated that 18 million new registered users were added in 2015 and that 72% were active users at the end of 2015. The total R&D employee headcount spread across departments such as hardware engineering, software engineering, firmware, interactive, research and industrial design at the end of 1Q16 was 755, as compared to 295 in 1Q15.
Patents
At the end of 1Q16, Fitbit's patent portfolio consisted of 140 issued patents, with 156 patent applications pending. Fitbit believes that it will be difficult for its competitors to match breadth and pace of R&D over time.
Fitbit has a market cap of ~$2.9 billion. In competes with tech heavyweights like Apple (AAPL), Microsoft (MSFT), and Korea's (EWY) Samsung (SSNLF) in the wearables market. By comparison, Apple, Microsoft, and Samsung have market caps of $489 billion, $405 billion and $140 billion, respectively.