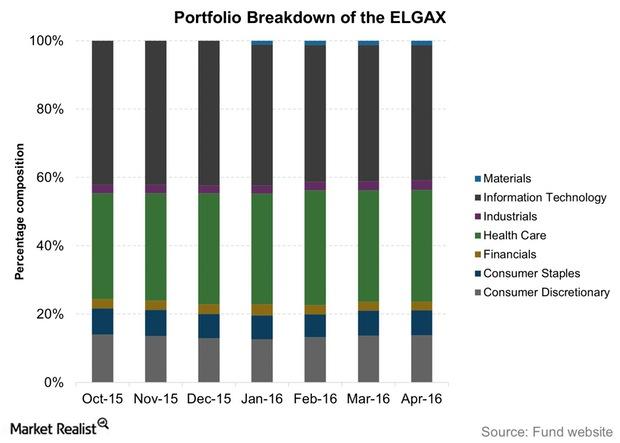 How ELGAX's Portfolio Has Changed
By David Ashworth

May. 31 2016, Published 3:34 p.m. ET
Columbia Select Large Cap Growth Fund overview
The Columbia Select Large Cap Growth Fund Class A (ELGAX) invests at least 80% of its assets in the common stocks of US-based and foreign companies with market capitalizations like those of companies in the Russell 1000 Growth Index.
Fund managers look for companies that, according to them, have the potential for long-term growth. The fund has adopted a focused portfolio style. This means that it invests in a limited number of stocks. At a certain time, the fund may focus its investments in certain sectors, including the consumer discretionary, healthcare, information technology, and technology sectors.
Article continues below advertisement
Portfolio changes in ELGAX
For this analysis, we'll be considering holdings as of March 2016, as that is the most recent available sectoral breakdown. The portfolio's holdings after March reflect valuation-driven changes to its portfolio, not its actual holdings.
According to the information provided by the fund house, information technology was the single largest sectoral holding of ELGAX, forming 40% of its portfolio, as of April 2016. The healthcare and consumer discretionary sectors, in that order, were second and third, forming over one-third and 12% of the portfolio, respectively. The fund is not invested in the telecommunications services, utilities, or energy sectors.
Compared to a year ago, the fund's managers have shifted their focus to staples from discretionary stocks among the consumer-oriented sectors. The healthcare sector has also seen a notable increase in the portfolio. Materials exited the portfolio after mid-2015 and were reintroduced at the beginning of 2016.
What can the fund's performance be attributed to? Let's look at that in the next article.