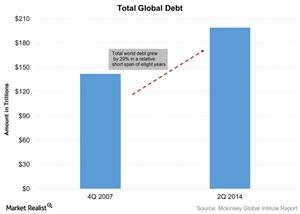 Debate about China Signals an Inflection Point for Its Direction
By Lynn Noah

Updated
China's a heated topic
Hedge fund managers such as John Burbank of Passport Capital and Michael Novogratz of Fortress Investment Group LLC, who were bullish on China (FXI) (YINN) (ASHR) until last year, turned bearish on China this year. Earlier, Burbank predicted that China would come through its economic slowdown "strong and positive." Novogratz thought that China is on the verge of "one of the greatest bull markets we've seen."
Article continues below advertisement
The discussion over China led to a "fiery exchange" of words between money managers Emanuel Friedman, Milton Berg, and Don Brownstein. It "broke with the polite decorum." Friedman, co-founder of EJF Capital, said he was reminded of overblown reactions to the Asian financial crisis in the late 1990s. He commented that "People said, 'Well Korea, it's finished, it's collapsed. People are in the streets.'" Milton Berg of MB Advisors shot back that "the issue is not that." Friedman shouted, "People are in the streets!" He repeated it five more times. The debate over China (TSM) (CEO) (CHL) signals an inflection point.
According to Berg, the major issue is the global credit bubble. If it bursts, it will be terrible because central banks may not have any other option but to print money. This would result in high inflation. He thinks that the world is facing bear markets that could last for 30 years. He stated that it's time to get out of stocks and bonds and wait for another crisis. This would be the perfect time to buy securities. This is what Warren Buffet does.
Article continues below advertisement
Total world debt
According to a study conducted by McKinsey Global Institute in May 2014, global debt rose by almost $57 trillion from $142 trillion in 2007—the period since the financial crisis started—to $199 trillion in 2Q14. According to the report, the three major areas of concern were rising government debt, rising household debt, and rising total debt in China. China's rising debt increased four-fold since 2007.
The report stated that China's debt has quadrupled since 2007 to $28 trillion. This represents 282% of the gross domestic product. The McKinsey Institute expressed concern about China's financial system. It stated that "half of all loans are linked, directly or indirectly, to China's overheated real-estate market; unregulated shadow banking accounts for nearly half of new lending; and the debt of many local governments is probably unsustainable."
In the next part, we'll see which hedge fund managers are bullish and bearish on China. We'll present empirical evidence suggesting why.