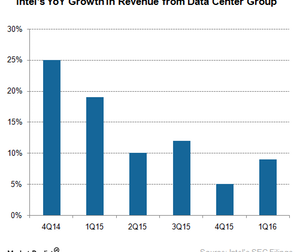 Understaning Intel's Slow Data Center Revenue Growth
By Puja Tayal

Updated
Data center revenue growth slows to single-digit
After Intel's (INTC) DCG (Data Center Group) reported strong revenue growth in 2014, the growth slowed in 2015. DCG reported double-digit growth in the first three quarters of 2015, but then the growth dropped to single digits in fiscal 4Q15, when it reported 5% YoY (year-over-year) growth. At that time, Intel Chief Executive Brian Krzanich stated that the slowdown was seasonal and that growth would resume.
Article continues below advertisement
In fiscal 1Q16, Intel's DCG revenues rose by 9% YoY to $4 billion, making for another quarter of single-digit growth. The strong demand from the cloud and communication service customers was offset by continued slowdown in the enterprise demand due to weak macroeconomic conditions. This was evident from the 13% growth in volume, which was offset by a 3% decline in ASP (average selling price) as networking per storage unit grew. ASP growth has slowed significantly, from 10% in 2014 to 3% in 2015, as enterprise demand remained soft.
DCG's operating profit rose by 4% YoY to $1.8 billion in fiscal 1Q16, due to the cost benefits arising from the 14 nm (nanometer) technology. Gartner expects Intel's Data Center System spending to grow by 2.1% YoY in 2016, indicating further softness in the enterprise space.
Intel's new DCG products
That said, Intel is looking to boost enterprise demand with its new Xeon E5-2600 V4 family of scale-out server processors. The company will integrate the processors into the new servers of Hewlett Packard Enterprise (HPE), Dell, and Cisco Systems (CSCO). Moreover, the company has also launched Altera FPGA (field-programmable gate array) integrated Xeon chips for cloud customers.
Competition in the data center market not far away
While Intel commands 99% of the data center market, competition is not far away. Qualcomm (QCOM), IBM (IBM), Rackspace, and Advanced Micro Devices (AMD) are growing at a faster pace and grabbing shares of the market. But Intel has been banned from supplying high-performance server chips to China's (FXI) supercomputers, thereby limiting its growth in the second-largest server market after the US.
Now let's look at the performance of Intel's Internet of Things Group.