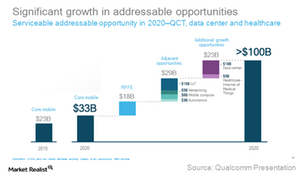 QCOM Looks to Expand Exposure in Adjacent and Data Center Markets
By Puja Tayal

Updated
Qualcomm eyes adjacent markets
In the previous part of this series, we saw that Qualcomm's (QCOM) chipset and licensing business is being impacted by a slowdown in the smartphone market, especially premium phones. Hence, the company is looking to expand in other high-growth markets where its connectivity and ARM chips can serve well.
The company has identified four markets: automotive, networking, mobile computing, and IoT (Internet of Things).
Article continues below advertisement
Adjacent markets' revenue contribution in fiscal 2016
In the automotive space, Qualcomm's Snapdragon 820A module has been launched. In the networking space, Qualcomm offers more than 240 router, home gateway, and set-top box designs.
In the IoT space, Qualcomm chips power more than 100 wearable devices, of which 80% were Google's (GOOG) Android smartwatch designs. In terms of unit shipments, more than 1 billion IoT devices powered by Qualcomm technology have been shipped.
Qualcomm expects these adjacent markets to contribute ~$2.5 billion toward QCT (Qualcomm CDMA Technologies) revenue in fiscal 2016.
Data center
Qualcomm (QCOM) is looking to gain some share in the data center market with its ARM architecture server chips. Several chip makers such as Cavium, Advanced Micro Devices (AMD), and AppliedMicro offer ARM chips that have been adopted by several server systems like Hewlett-Packard Enterprise's (HPE) Moonshot servers. The use of ARM servers is confined to a few cloud and web service customers and has been unable to compete with Intel's (INTC) x86 servers.
Article continues below advertisement
Until now, Qualcomm has been growing slowly in this market. However, with the slowdown in the smartphone market, a new growth area is what it needs. It has partnered with Guizhou Province to design and build data center chips for China (FXI), which is expected to become the second-largest server market after the US. According to a Bloomberg report, Google is in talks with Qualcomm to use the latter's chips in its data centers.
During the company fiscal 2Q16 earnings call, Qualcomm's president, Derek Aberle, hinted that the company may start shipping its server chips in fiscal 2H17. Responding to an analyst's question, he noted, "Our assumption is that we will be shipping samples toward the end of the year, and revenue would be something that would flow through mid to late next year."