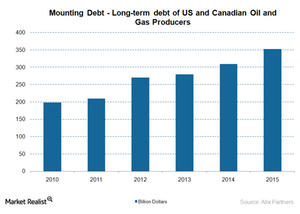 North American Oil and Gas Producers' Debt Rose in 2015
By Gordon Kristopher

Nov. 20 2020, Updated 3:01 p.m. ET
Oil and gas producers' debt 
Consulting company AlixPartners estimates that North American oil and gas producers' lose about $2 billion every week at $30 per barrel. Read the first part of the series to learn more about the latest crude oil prices. Surveys from AlixPartners from 134 public companies in the US and Canada show that they had a cumulative long-term debt of more than $353 billion in 2015. Cheaper credit facilities and high crude oil prices between 2012 and 2014 motivated small oil and gas producers to borrow money and increase the crude oil production. However, crude oil prices fell more than 65% since June 2014 due to oversupply. As a result, it started to impact oil companies' revenue. Oil producers like Sandridge Energy (SDOC), Energy XXI (EXXI), and Halcon Resources (HK) paid more than 40% of their revenue for loan interest payments.
Article continues below advertisement
Rising bankruptcy 
Lower crude oil prices led to a rise in bankruptcy among US oil producers due to higher break-even costs and production costs compared to oil producers in the Middle East. To learn more, read Crude Oil's Total Cost of Production Impacts Major Oil Producers.
Wolfe Research suggests that about one-third of US oil and gas companies could end up filing for bankruptcy. Consulting firm Gavin/Solmonese estimates that 67 US oil and natural gas companies filed for bankruptcy in 2015. In 2015, Samson Resources, Sabine Oil & Gas, and Quicksilver Resources were the largest oil production bankruptcy cases. They had debts of $4.3 billion, $2.9 billion, and $2.1 billion, respectively. This is a huge loss to creditors. Reuters projects that more than 50 US and Canadian oil and gas producers entered bankruptcy since early 2015. Bankruptcy will rise in 2016 due to mounting debt and lower crude oil prices.
Forbes estimates that small independent oil exploration and production companies like Swift Energy (SFY), Energy XXI (EXXI), Halcon Resources (HK), and Goodrich Petroleum (GDP) could file for bankruptcy. However, companies haven't stopped producing crude oil. Read the next part of the series to learn more.
The roller coaster rise of crude oil prices also impacts ETFs like the ProShares Ultra Bloomberg Crude Oil ETF (UCO), the PowerShares DWA Energy Momentum (PXI), the United States Brent Oil (BNO), and the ProShares UltraShort Bloomberg Crude Oil ETF (SCO).