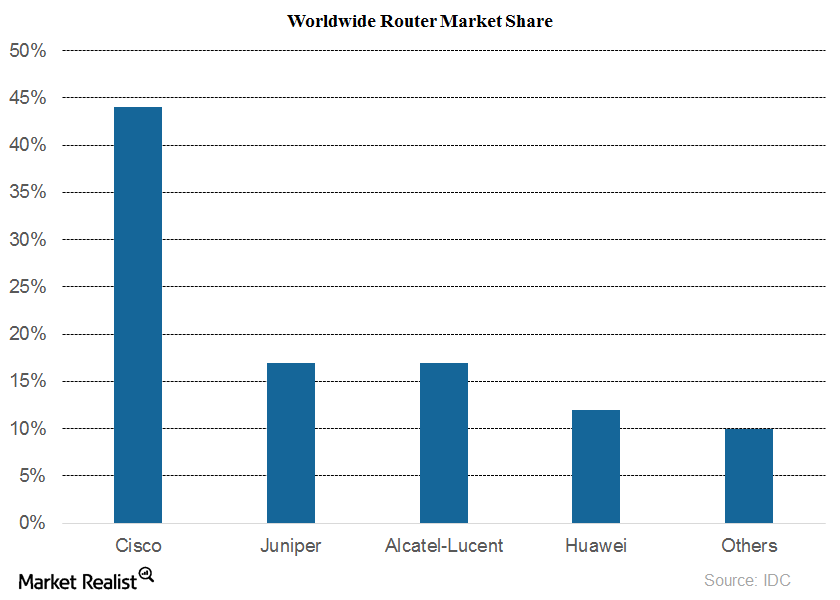 Inside Routers: Who Are the Major Players in the Routing Market?
By Adam Rogers

Nov. 20 2020, Updated 3:24 p.m. ET
What are routers?
A router is connected to a minimum of two networks. It basically decides which way to send each information packet, based on the understanding of the networks. A router is located at a gateway and is generally part of a network switch. An edge router interfaces with an ATM (asynchronous transfer mode) network.
By comparison, a NGN (next generation network) is a packet-based network that provides telecommunication services. NGNs can make use of multiple broadbands and add quality of service to transport technologies, where service-related functions are independent of the underlying transport-related technologies. It offers unrestricted access by users to different service providers and supports generalized mobility that allows consistent and universal provisions of services to users.
Article continues below advertisement
Competition in core routers
Historically, Cisco Systems (CSCO) and Juniper Networks have controlled the core router space with a combined market share of more than 80%. But this scenario changed with the re-entry of Europe's (FEP) Alcatel-Lucent (ALU) into this segment.
At the same time, Alcatel-Lucent's market share in edge routing has grown to 24%. The company edged out Juniper Networks (JNPR) to become the number-two vendor in this segment in 2010, despite entering the market in 2003. Alcatel-Lucent can use this platform as leverage to increase its market share in the core router space as well. Notably, Alcatel-Lucent was acquired by Europe's (EFA) Nokia (NOK) in 2015.
In the next part, we'll analyze the key growth drivers in the routing market.