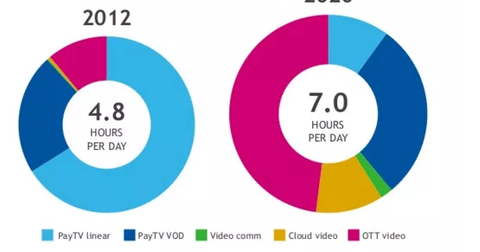 Why Did Juniper Acquire BTI Systems?
By Adam Rogers

Updated
Acquisition expected to transform the packet optical networking segment
Earlier this year, Juniper Networks (JNPR) announced its intent to acquire optical equipment provider BTI Systems. The joining of Juniper's data center switching and IP (internet protocol) routing platform with BTI's cloud and metro networking software and systems could transform the packet optical networking segment of the merged entity.
This acquisition will also provide customers with open software–driven solutions that are automated, cost-efficient, and highly programmable.
Article continues below advertisement
Juniper expects the acquisition to enhance its ability to provide network automation. BTI complements Juniper's IP and Ethernet products. This acquisition will also add improved optical capabilities, network management, and automation software. Juniper aims to incorporate these capabilities as well as BTI's team into its switching and routing line.
Telecommunications operators such as Verizon (VZ) and AT&T (T) are looking to upgrade their networks to provide high broadband speeds of 100 Gbps (gigabytes per second) to customers. During the Goldman Sachs Technology and Internet Conference held in March 2016, Juniper mentioned that the acquisition of BTI Systems would help it to make enhancements to its MX product line, an essential component in the development of metro networks.
These products and services will be used by cloud and content networks as demand for video streaming, content sharing, and social networks continues to grow. The above chart shows how the cloud and video streaming markets are expected to replace the linear pay-TV market.
Other acquisitions and collaborations
Soon after Juniper announced its intent to acquire BTI, Microsoft (MSFT), one of the largest buyers of data center interconnect products, announced a R&D (research and development) collaboration with Inphi. Europe's (EFA) Nokia (NOK) acquired Alcatel-Lucent, and hardware giant Cisco (CSCO) announced a number of partnerships with Ericsson (ERIC).