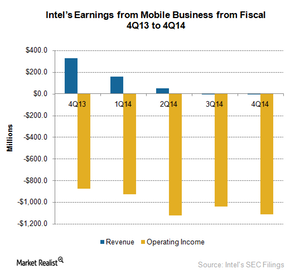 Intel's Client Computing Group Is Plagued by Mobile Group's Losses
By Puja Tayal

Apr. 14 2016, Updated 11:07 a.m. ET
Contra revenue backfires on Intel's mobile business
In the previous part of the series, we saw that Intel's (INTC) CCG (Client Computing Group) earnings were hit by slowing PC (personal computer) sales in fiscal 2015.
In fiscal 1Q15, Intel integrated its mobile and PC businesses into the CCG. While PC sales were slow, mobile sales were negative due to contra revenue.
In fiscal 2014, Intel sold 46 million tablet processors but reported a loss of $4.2 billion. This is because as part of its contra revenue strategy, the company sold these processors to OEMs (original equipment manufacturers) at subsidized rates in order to gain market share.
Article continues below advertisement
In fiscal 1Q15, the company committed to lowering its mobile business losses by $800 million per year. By the end of fiscal 2015, it exceeded its target and reduced losses by almost $1 billion. In fiscal 1Q16, the company is likely to remain on target and reduce its mobile losses by around $200 million, thereby improving CCG's profit.
Smartphone industry forecast
Article continues below advertisement
Bad news for the mobile segment
Intel's chips have failed to compete with Qualcomm's (QCOM) ARM processors and Apple's and Samsung's custom SOCs (systems on chip). For this reason, Intel approached first-tier handset makers Asustek and Lenovo, and they became its top two customers in the mobile space.
However, a delay in the launch of Intel 4G (fourth generation) SoFIA chips led to reduced orders from the two customers. Intel's orders from Asustek are expected to fall from ~6 million units in 2015 to less than 5 million units in 2016, DigiTimes reported, citing industry sources.
Rumor: Intel chip in iPhone 7
Citing unnamed sources, VentureBeat reported that Apple would use Intel's 7360 LTE (long-term evolution) modem chip in its iPhone 7. According to CLSA Securities analyst Srini Pajjuri's estimates, Intel would supply LTE modems for "30% to 40%" of iPhone 7 shipments, which would increase its mobile segment earnings by 1.5%–2%.
Amid challenges in the mobile segment and Intel's increasing interest in acquisitions, many analysts analyzed the possibility of an Intel-Qualcomm merger. The merger would make Intel a leader in the mobile and IoT (Internet of Things) spaces. However, this merger is unlikely, as Intel is reducing its capital spending in the mobile space and channelizing that money into the data center and IoT spaces.
In the next part of the series, we'll look at the company's data center segment.