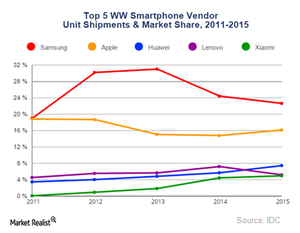 Is Intel Taking a Bite of Qualcomm's Business from Apple?
By Puja Tayal

Updated
Qualcomm hints at reduced orders from large customers
In the previous part of this series, we saw that Qualcomm (QCOM) expects improvement in chipset profit margins in fiscal 3Q16 and beyond. However, what caught everyone's attention at the fiscal 2Q16 earnings call was Steve Mollenkopf's statement.
Qualcomm's chief executive officer noted that these margin forecasts were derived after factoring in assumptions that its large customers would turn to a rival as a second supply source.
Article continues below advertisement
Intel rumored to be second modem supplier for Apple
Analysts believe that this large customer could be Apple (AAPL). According to Bloomberg data, Qualcomm has two large customers—Samsung (SSNLF) and Apple. Samsung already uses more than one supplier to reduce its dependence on a single supplier.
According to Bloomberg data, Apple has only one baseband modem supplier—Qualcomm. Like Samsung, Apple may look to diversify its supply risk by using more than one supplier. There are rumors that Apple would source its LTE[1. long-term evolution] modem chips for the iPhone 7 from two suppliers—Intel (INTC) and Qualcomm.
Challenges in the multiple supplier model
However, keeping multiple suppliers creates a challenge in optimization. A VentureBeat report noted that Intel has hired 1,000 people to speed up production of its 7360 LTE modem chip for Apple. The report added that Apple engineers are helping Intel to optimize the modem.
Even if the modems are optimized, different modems have different power efficiency capabilities, as well as different types of connectivity to cellular networks. There are rumors that Apple may ship devices with Intel modems in emerging markets of Asia (AAXJ) and Latin America and devices with Qualcomm modems in other markets.
Article continues below advertisement
Intel lags behind Qualcomm in terms of mobile technology and has a history of delays in launching new technology in the mobile space. According to VentureBeat, Apple has not yet signed a supplier agreement with Intel. The agreement is subject to Intel's timely completion of a project target. If the deal goes through, there is a possibility that this partnership may expand, with Intel securing an order for fabricating Apple's A10 chips.
Impact on Qualcomm
If Apple intends to launch the iPhone 7 by September 2016, it may have to commence production by July 2016 and have the components tested before that. Analysts expect that Apple would use the Intel modem for 30%–40% of the total iPhone 7 devices shipped. This would reduce Qualcomm's 2017 EPS (earnings per share) by 6%–9%.
Mollenkopf reassured investors that Qualcomm could achieve its margins despite a reduction in orders from a large customer, but investors did not seem convinced. In the next part of this series, we will look at the company's growth strategy.