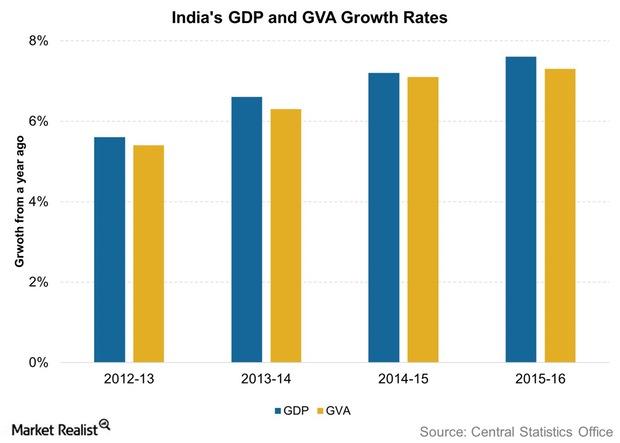 Economic Growth in India is Strong, but Exports Are Hurting
Economic growth in India
Data released by India's CSO (Central Statistics Office) in February 2016 shows that economic growth in India, as measured by its GDP, is expected to be 7.6% in the fiscal year 2015–2016. In India, a fiscal year begins in April and ends in March the next year. For the same period, the GVA (gross value added) was expected to have risen by 7.3%. India's GDP had risen by 7.2% in the fiscal year 2014–2015 and the GVA had risen by 7.1%.
At a time when its BRIC peers have struggled in terms of economic fundamentals, India's economic fundamentals have remained strong. Brazil is facing the worst recession in a century, Russia has been hurt by sanctions and oil prices, and China is reforming its economy.
The government had made a push for manufacturing by launching its "Make in India" campaign in the first year in power and in the latest budget, it has provided several considerations to farmers and rural India to make growth more inclusive.
Article continues below advertisement
The International Monetary Fund expects India's economic growth to be 7.3% in the fiscal year 2015–2016 and to pick up to 7.5% in the next fiscal year. On the other hand, the Asian Development Bank expects economic growth in India to slow to 7.4% in the fiscal year 2016–2017. Most institutions are expecting India to grow by over 7% in this fiscal year and the next.
Exports are a problem
India's exports in the fiscal year 2015–2016 until February, in US dollar terms, have contracted by 16.7% from a year ago with non-petroleum exports having registered a decline of 9% in the same period. What has kept India's trade deficit under check is the decline in imports.
Overall imports by India have declined by 14.7% in dollar terms in the fiscal years 2015–2020 until February. Imports have declined due to the sharp contraction in oil imports. India, being a large oil importer, has benefited immensely from the decline in crude oil prices (STO) (MRO) (CVX).
A decline in service exports is not good news for information technology companies (INFY) (WIT) and funds investing in these companies (PIN) (ETGIX). However, if India's economic fundamentals remain strong, financial markets can be expected to catch up with them.
It is important for investors to keep tabs on India's inflation as changes in monetary policy will hinge on it. Let's take a look at that in the next article.