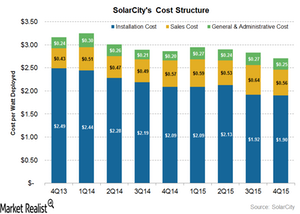 A Closer Look at SolarCity's Key Performance Drivers
By Sheldon Krieger

Updated
Key performance drivers
Federal and state government incentives, environment regulations, seasonal changes in energy demand, and cost factors are among the biggest performance drivers that impact the financial performance of SolarCity (SCTY).
Federal and state government incentives are key to raising capital at low cost. Specifically, tax incentives such as ITCs (investment tax credits) help downstream solar (TAN) companies like SolarCity (SCTY), Sunrun (RUN), Vivint Solar (VSLR), and SunPower (SPWR) raise capital at low cost through tax equity investments.
Additionally, RPS (renewable portfolio standards) provide an incentive in the form of SREC (Solar Renewable Energy Certificates) to generate solar power. Net metering is another crucial factor that provides an incentive to customers to go solar.
According to SolarCity's filings, the elimination of net metering in Nevada led SolarCity to exit the market in that state. This also impacted company's 2016 guidance. Any such changes in other states could have a negative impact on SolarCity's business.
Article continues below advertisement
SolarCity's cost factor
SolarCity's cost performance can be determined by its key cost factor, cost per watt deployed. Cost per watt deployed is the sum of installation and G&A (general and administrative) expenses per watt deployed and sales costs per watt deployed in a particular period.
Lower costs per watt imply higher operational efficiency. According to company filings, SolarCity's cost per watt deployed consistently declined in fiscal 2015. For 4Q15, the company reported the cost per watt deployed as $2.71, as compared to $2.86 in 4Q14 and $ 3.16 in 4Q13.
The weather impact
Of course, seasonal variation in weather conditions can impact SolarCity's revenue and installation targets. Adverse weather conditions and extreme winters, for example, can delay the commencement of operations, negatively affects the company's operating results.
In the next part, we'll discuss SolarCity's key operating metrics.