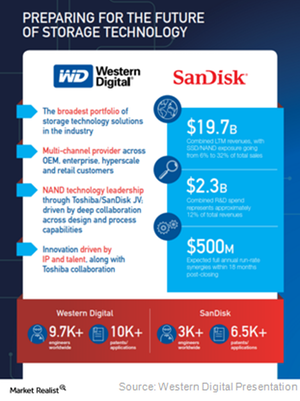 How Will Western Digital Benefit from the SanDisk Merger?
Merger synergies for WDC
So far, we saw that the merger with Western Digital (WDC) is a win for SanDisk (SNDK). It has been struggling with declining earnings in fiscal 2015. However, it takes two to tango. Looking at the points raised by Alken Asset Management, Western Digital had to convince shareholders that the merger would deliver fruitful results.
Let's see how the merger will benefit Western Digital.
Article continues below advertisement
Slowdown in HDD market
The HDD (hard disk drive) market has undergone massive consolidation. It reduced the number of players from 200 to just three—Western Digital, Seagate (STX), and Toshiba (TOSBF). All three of the companies have been plagued with declining revenue in fiscal 2015 as the HDD market matures. According to DRAMeXchange, the HDD adoption rate in laptops is expected to decrease from 74% in 2015 to 59% in 2017 as reducing prices of SSDs (solid-state drives) increases their adoption in laptops.
Amid this slowing market, the merger with SanDisk will help Western Digital capitalize on the growth in the SSD and flash memory market by increasing the share of these products towards the company's revenue from 6% to 32%.
Product and revenue synergies
The merger will create a company with nearly $20 billion in combined revenue. It will have a broad storage portfolio of flash-based memory, resistive random-access memory, InfiniFlash all-flash just a bunch of disks-equivalent, enterprise and consumer SSDs, and flash for embedded devices such as cell phones and tablets. The combined company would be able to capitalize on the enterprise storage products market. This market is estimated to reach $76 billion by 2017.
Western Digital will get access to SanDisk's foundries and intellectual property. SanDisk, in partnership with Hewlett-Packard (HPQ), developed a storage class memory technology. It claims that the technology can compete with Intel (INTC) and Micron Technology's (MU) breakthrough memory chip 3D XPoint. SanDisk is building a 3D NAND facility in a joint venture with Toshiba in Japan (EWJ).
The integration of SanDisk's IP with Western Digital's resources will generate huge cost savings. It will put the combined company in a position to compete with Samsung and Micron in terms of pricing.
In the next parts in this series, we'll see how SanDisk will bring cost synergies for Western Digital.