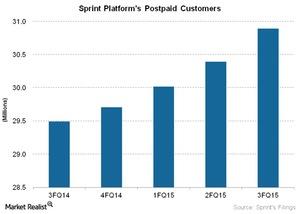 How Sprint Is Trying to Attract New Customers in a Saturated Market
Sprint's new promotion
Sprint (S) has initiated a new promotional offer to attract customers of other carriers while giving the same benefit to its existing customers who wish to get a new line. According to the telecom company's press release on March 25, 2016, "Starting today, Sprint will offer a 30-day satisfaction guarantee – the industry's best consumer satisfaction guarantee. If customers aren't completely satisfied within 30 days, Sprint will refund the cost of the device and service charges." Note that the limited time promotion is based on certain conditions, as per Sprint.
Article continues below advertisement
The press release also said, "If a new customer or an existing customer adds a line of service (phone, tablet or MBB) and deactivates within 30 days, Sprint will credit all device charges (Installment Billing, Lease, or Early Termination Fee, when device is returned) and reimburse the customer for the device purchase, price or down payment, activation fee, MRC, and all associated taxes and fees."
Sprint's continued efforts to attract customers in a saturated US wireless space
Sprint is the fourth largest wireless carrier by subscribers in the saturated US (SPY) (IVV) wireless space. The top two US wireless players are AT&T (T) and Verizon (VZ). At the end of fiscal 3Q15, Sprint had ~58.4 million wireless subscribers including ~30.9 million postpaid customers.
The YoY (year-over-year) growth for postpaid subscribers for the Sprint platform has been in the positive territory since fiscal 1Q15. However, the pace of this growth has been significantly less than that witnessed by T-Mobile (TMUS), the third largest US wireless player with ~63.3 million wireless customers at the end of 4Q15. The carrier's postpaid base increased by ~16.6% YoY to reach ~31.7 million subscribers compared to a ~4.7% YoY growth in Sprint's postpaid subscribers at the end of calendar 4Q15.
The YoY increases in postpaid subscribers (domestic operations) for AT&T and Verizon were ~1.8% and ~4.4%, respectively, in 4Q15. Verizon and AT&T had ~106.5 million and ~77.1 million postpaid subscribers, respectively, at the end of that quarter.