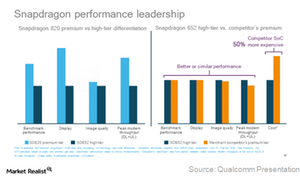 Qualcomm's New Snapdragon 820: Popular among Handset Makers
By Puja Tayal

Mar. 18 2016, Updated 9:05 a.m. ET
Will Snapdragon 820 overcome the shortcomings of its predecessor?
In the previous part of this series, we saw that 2015 was a challenging year for Qualcomm (QCOM). Although all the headwinds that hit the company in 2015 haven't faded away completely, Qualcomm is taking steps to gradually overcome the headwinds that are in its control and boost growth.
In 2015, the company's Snapdragon 810 chipset failed to deliver desired revenue due to overheating and performance issues. The company has worked on these shortcomings and launched its 64-bit Snapdragon 820. It has also changed its foundry partner from Taiwan Semiconductor Manufacturing (TSM), which built the 810 chipsets. The new chipsets are being built on Samsung's (SSNLF) 14nm (nanometer) LPP (low power plus) process.
Article continues below advertisement
About Snapdragon 820
Qualcomm has tried to overcome the Snapdragon 810 shortcomings by using its own CPU (central processing unit) design instead of off-the-shelf ARM Cortex A53 and A57 CPUs used in 810. The 820 chipset is powered by Adreno 530 GPU (graphics processing unit) and 2.2 GHz (gigahertz) quad-core 64-bit Kryo CPU, which is expected to improve performance and power efficiency twofold.
The chip houses the X12 LTE (Long-Term Evolution) modem that allows LTE operators to use unlicensed spectrum when available. The modem supports 600 Mbps (megabits per second) download speed and 150 Mbps upload speed.
However, it's still unclear if the 820 chip has successfully overcome the 810 shortcomings.
Success of Snapdragon 820
Qualcomm launched the Snapdragon 820 at the Mobile World Congress trade show held February 22–25, 2016. The chipset received good response from both high- and low-end device manufacturers. Samsung, Xiaomi, LG, Hewlett-Packard (HPQ), HTC, and Sony have opted to use the Snapdragon 820 in their upcoming devices.
Samsung will use the 820 chip in its high-end Galaxy S7 series versions built for the United States, China, and Japan (EWJ). Xiaomi's Mi 5 Android smartphones, Sony's three smartphones under the Xperia X series, LG's G5 smartphones, and Hewlett-Packard's Elite x3 phablets will house the 820 chip. HTC's new Desire smartphones targeted at low-end customers will also house the 820 chip.
What came as a surprise was Qualcomm getting orders back from Samsung after losing the account in 2015. Although the order is just for some of Samsung's S7 series, it's a good start. On the one hand, Qualcomm is winning back orders from Samsung, and on the other hand, there's speculation that Qualcomm may lose some orders from Apple. We'll shed some light on this in the next part of the series.