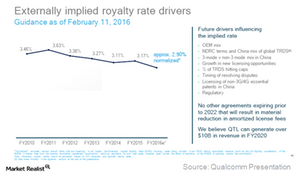 Why Is Qualcomm Evolving Its Licensing Structure?
By Puja Tayal

Updated
Recovering underreported licensing revenue
In the previous part of this series, we saw that the transition from 3-mode to non-3-mode would fetch Qualcomm (QCOM) higher licensing revenue. This would mitigate the impact of lower royalty fees. Another pressing issue for the company is lost licensing revenue due to underreporting of sales by Chinese (FXI) handset makers.
The company reported weaker guidance for fiscal 2Q16, which ended in March, due to uncertainty surrounding the recovery of lost revenue. The recovery is not a long-term element but rather a factor that would result in uneven revenue. If a dispute is resolved in favor of Qualcomm, it will come with a catch-up amount for the past months. This would shoot up revenue figures for that quarter, and vice versa.
Article continues below advertisement
Compliance program
Qualcomm has launched a compliance program under which a team of market intelligence is finding new sources of information to identify where the underreported units are. There's also a team of auditors that will conduct audits of new licensees to ensure they comply with the licensing agreement. The company plans to conduct 120 audits in 2016.
Evolving licensing agreements
Qualcomm is also changing the way it calculates royalties. Until now, the 3G/4G (third-generation, fourth-generation) agreements were the same. So if Qualcomm transitioned from 3G to 4G, it provided 4G IP (intellectual property) to the customer at no extra cost. The royalty rate and term remained the same.
Now the company is evolving its licensing program. If a new agreement is for 3G and the remaining portfolio has a cut-off date, any patent launched after that date will not be a part of the agreement. This will give Qualcomm a chance to pitch the same client for an additional value for securing the new patent.
With all these efforts, the company expects to generate $10 billion in licensing revenue by fiscal 2020.
Even NVIDIA (NVDA) is capitalizing on its patent portfolio by charging a royalty. Its licensing agreement with Intel (INTC) expired in January 2016. It's now in a legal patent dispute with Samsung (SSNLF) and Qualcomm over GPU (graphic processing unit) technology. Qualcomm is also surrounded by legal issues related to licensing. We'll look at some of these issues in the next part of this series.