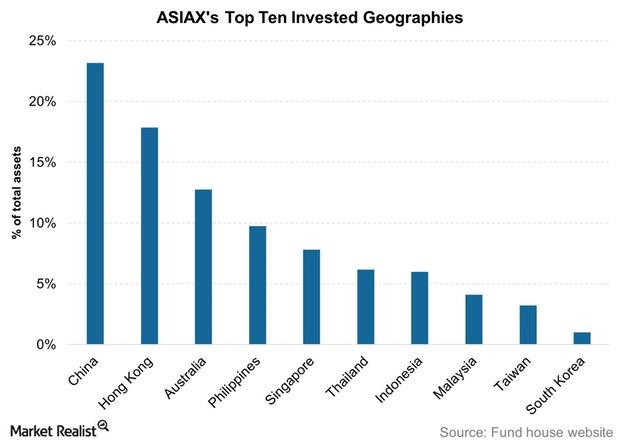 Must-Know Facts about ASIAX
By David Ashworth

Mar. 7 2016, Published 4:55 p.m. ET
Invesco Asia Pacific Growth Fund
The Invesco Asia Pacific Growth Fund (ASIAX) invests "in a diversified portfolio of reasonably priced, quality companies in the Asia Pacific region, excluding Japan, with strong fundamentals and sustainable earnings growth." The fund is managed by Steve Cao, Brent Bates, and Mark Jason.
Though the fund retains the flexibility of investing across market capitalizations, its focus area is the small- and mid-cap segment. The fund is not currency hedged, but fund managers can take such positions if deemed appropriate.
According to the fund's literature, its managers employ fundamental research to identify quality growth companies. They employ bottom-up research, which looks at the state of a company in order to select securities for the portfolio rather than looking at sector or country trends.
Article continues below advertisement
Portfolio composition
Information from the fund house shows that financials are the single largest sectoral holding of the fund, making up 28.9% of its portfolio as of January 2016. The information technology and consumer discretionary sectors follow and form a combined 23.2% of the fund's assets. Consumer staples and industrials round off the top five invested sectors.
Geographically, 23.2% of the fund's assets are invested in companies located in China. Hong Kong companies form 17.9% of its assets, and Australia, the Philippines, and Singapore round off the top five invested geographies.
Broadcom (AVGO), Taiwan Semiconductor Manufacturing (TSM), China Mobile (CHL), NetEase (NTES), and class B shares of PT Telekomunikasi Indonesia (TLK) were among the fund's 46 stock holdings as of December's end 2015. As of December, the fund was managing assets worth $769.4 million.
Fee and minimums
ASIAX has existed since November 1997 and has an expense ratio of 1.5%. You require a minimum of $1,000 to invest in this fund, and it can charge a maximum sales charge of 5.5% of the offering price. The minimum additional investment is $50.
In the next article, we'll look at some of the key metrics of the fund's performance in the one-year period ended February 2016.